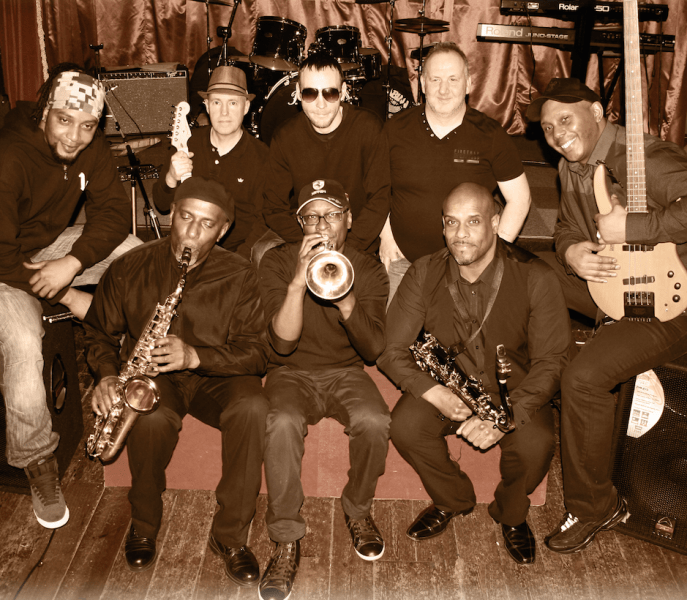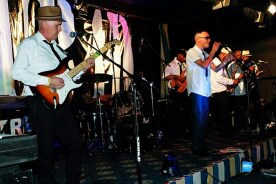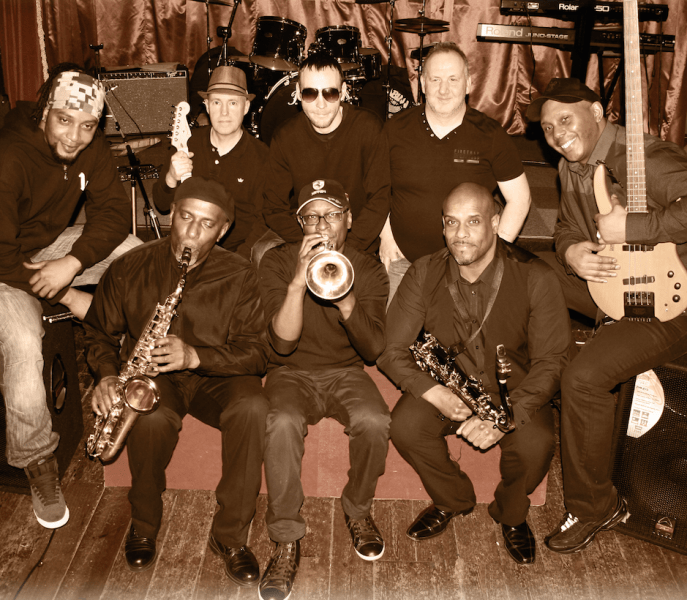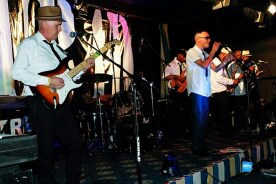 UB4D are an eight piece Professional " Sound Alike" UB40 Tribute band with a difference…With Front man "AJ" (Adrian Jakes) & his undeniable vocal resemblance to the legendary Ali Campbell himself.
UB4D aim to be second to none as an entertaining, polished and professional UB40 tribute act.
The Band "UB4D" are a group of experienced Pro musicians who are dedicated to providing the sounds and vibes of the original UB40. Formed in 2013 the band have enjoyed playing at corporate functions , weddings and parties and small to medium sized venues and festivals across the UK. All hailing from Birmingham the home of the original UB40.
THE LINE UP:
Lead Vox: Adrian (AJ)
Bass : Donova ( Dono )
Guitar: Steve
Keys: IZZY
Horns: Kirk tenor / Alvin trumpet/ Curtis Alto .
Drums: Mark Brady ( Rastro )
UB4D have an ever growing strong following on social media sites such as Facebook and Twitter and have a dedicated drive to create a genuine UB40 tribute band with style & carefull attention to detail.
PREVIOUS CLIENTS
Ballroom Birmingham
KC Promotions, Festivals Nationwide
MPV Venue Walsall Birmingham
Warwick club Redditch
La Reference Venue Birmingham
Band on the Wall Manchester
Cavern club Manchester
Que club Birmingham
Tunnels Bristol
Private parties
Various Wedding Events
TESTIMONIALS
JASON WRIGHT, PRIVATE WEDDING DERBY
"Thanks for everything guys you surpassed my expectations well worth every penny "
CLINTON VENUE MANAGER, WARWICK CLUB REDDITCH
" A job well done recieved a lot of great feedback "
RICHARD CLARKE VENUE MANAGER, MPV ( MAP PERFORMANCE VENUE) WALSALL
" Great performance, looking forward to re booking UB4D in the near future "
MATHEW COULTER, KC PROMOTIONS, CITY FESTIVAL BIRMINGHAM
" Outstanding UB40 Tribute band you guys were very good at the festival, i value what you did, i loved it "
PRESENT ARMS
KEEP ON MOVING
MAYBE TOMORROW
THE WAY YOU DO THE THINGS
HIGHER GROUND
DONT SLOW DOWN
TYLER
KING
SING OUR OWN SONG
IMPOSSIBLE LOVE
ONE IN TEN
SOMEONE LIKE ME
FOOD FOR THOUGHT
BRING ME YOUR CUP
GROOVING
STICK BY ME
RAT IN MY KITCHEN
IF IT HAPPENS AGAIN
CANT HELP FALLING IN LOVE
HOMLEY GIRL
KINGSTON TOWN
RUDIE
ENCORE
BABY COME BACK
SILOUETT
RED RED WINE
WHO YOU FIGHTING FOR
Call Now

Office 01942 205577. Mobile 07896 084136.

[contact-form-7 404 "Not Found"]