Tribute to the Legends of Soul & Motown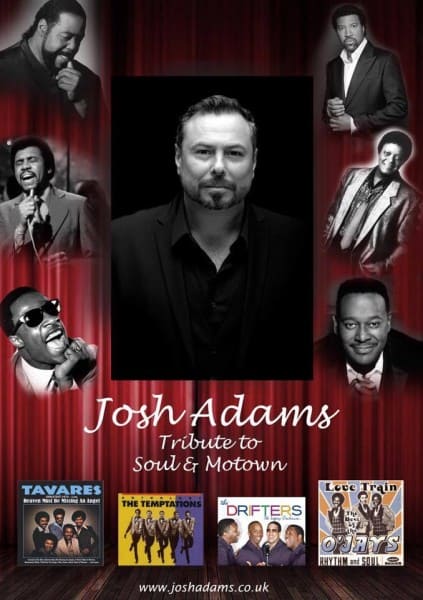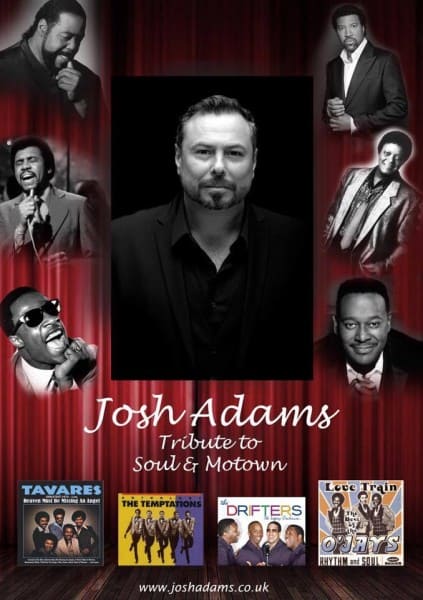 First a little about the show.
Josh has put together a Tribute show covering some of the legends that have graced us over the past 55 years, legends such as Marvin Gaye, Stevie Wonder, The Temptations, The Tramp, Tavares too Luther Vandross, Barry White andLionel Richie to name but a few. This show always fills the floor.
About Josh
Josh, who was born in Lancashire, began his professional career at the age of 15 working with Local bands for several years. After which he decided to pursue a solo career. With his easy rapport, smooth style, warm personality and his good looks, he is much sort after wedding singer and corporate entertainer at big entertainment venues across the country. He has also supported top comics Headliners in Christmas and summer shows throughout Lancashire, Blackpool, Manchester, Liverpool and Chester. In 1991 he travelled to Monte Carlo to appear in a full production show, choreographed with professional dancers. Over the years Josh has extended his experience to session work in top studios, also recording jingles for TV and radio and internet adverts.
At the end of 1991 Josh formed the Duo Kushti, also Lancashire based, which went on to perform successfully all over Europe and the UK. In 1997 Kushti toured America with the Coasters and performed to an audience of thirty five thousand. It was there that they released their first self penned material, which sold well, both in the UK and stateside.
In April 2002 he started his solo career, where he quickly established himself as one of the countries top Wedding and Corporate Entertainers. He also is a regular performer at the JJB stadium as pre-match entertainment, in front of crowds of up to 20 to 25,000 people. In this period of his career, he as released two C.D's and recorded a single with one of Britain's youngest talent Lauren Waterworth. Nothing is too big or to small for Josh, from a social evening to a wedding reception or corporate work he caters for them all.
Hi Josh
Just wanted to thank you for your performance at our wedding, all the songs you sang filled the dance floor from star to finish.
All our friends and family are still tackling about you and where did we find you. i shall pass on your details.
Once again thank you so much, and hope to see you soon.
Michelle and Tony.
Hi Josh,  just a quick email to thank you again for a fantastic performance last week, Three years in a row now and they just love you.
Take care Josh
Speak soon Paul Wentworth.
Wedding of Damien & Sarah 24th August 2008 Castle green Hotel, Kendal.
To Josh, We just wanted to say thank you so much for everything you did to make our wedding day so perfect. We, along with all our guests agree that you were fantastic.
Thanks once again Damien & Sarah
Kate & Keith 12th June 2010 Knowsley Hall, Prescott.
Kate Keith imageWhat a night!!! From start to finish Josh blew us and our guests away with his amazing vocal set.
So many of our guests have since commented on how brilliant Josh was and how much fun they had, even my dad got up to dance!!
Myself and my wife had such an fabulous time at our wedding but working with an AMAZING guy like Josh who is so talented and professional, helped make our experience even more memorable than we though was possible.
There are not enough words to describe how grateful I am to Josh for his entertainment on the night, I can't thank you enough. I was even lucky enough to duet with Josh at one point – absolutely brilliant. Thanks Josh for everything. Best wishes from Keith & Kate Lockley.
Anna & Lee
HOW SWEET IT IS TO BE LOVED BY YOU
BARRY WHITE-MY 1ST MY LAST MY EVERYTHING
DRIFTERS MED-COME ON OVER/ SATURDAY NIHGT AT THE MOVIES/ THERE GOES MY FIRST LOVE/ DOWN ON THE BEECH/ KISSING IN THE BACK ROW/ YOUR MORE THAN A NUMBER
THE REAL THING MEDLEY- YOU TO ME ARE EVERYTHING/ CAN'T GET BY WITHOUT YOU
THE PASADENEAS I'M DOING FINE NOW
TAVARES MEDLEY- HEAVEN MUST BE MISSING/ DON'T TAKE AWAY THE MUSIC
SOUL MED-DO YOU LIKE GOOD MUSIC/LAND OF A THOUSAND DANCES/SHAKE YOU TAIL-FEATHER
YOU'LL NEVER FIND LUO RAWLS
SAVE THE LAST DANCE THE DRIFTERS
LIONEL RICHIE – ANGEL / DON'T STOP THE MUSIC / TENDER HEART / EASY / ALL NIGHT LONG / PENNY LOVER /THREE TIMES A LADY
LUTHER VANDROS – ALWAYS AND FOREVER / AIN'T NO STOPPIN US NOW / NEVER TO MUCH / LOVE THE ONE YOUR WITH DANCE WITH MY FATHER
SAM COOKE-TWISTING THE NIGHT AWAY/WONDERFUL WORLD / STAND BY ME
FOUNDATIONS-BUILD ME UP BUTTERCUP
EDDY FLOYD-KNOCK ON WOOD
JOHNNIE BRISTOL – HANG ON IN THERE BABY
BOYS TO MEN-END OF THE ROAD
THE OJAY'S-LOVE TRAIN
JIMMY FUFFIN-WHAT BECOMES OF THE BROKEN HEARTED
THE TEMPTATIONS-MY GIRL
THE TRAMMPS – HOLD BACK THE NIGHT
THE FOUR SEASONS-DECEMBER 63 (OH WHAT A NIGHT)
READY BILLY PAUL- ME & MRS JONES
PLUS MANY MORE.
Call Now

Office 01942 205577. Mobile 07896 084136.

[contact-form-7 404 "Not Found"]