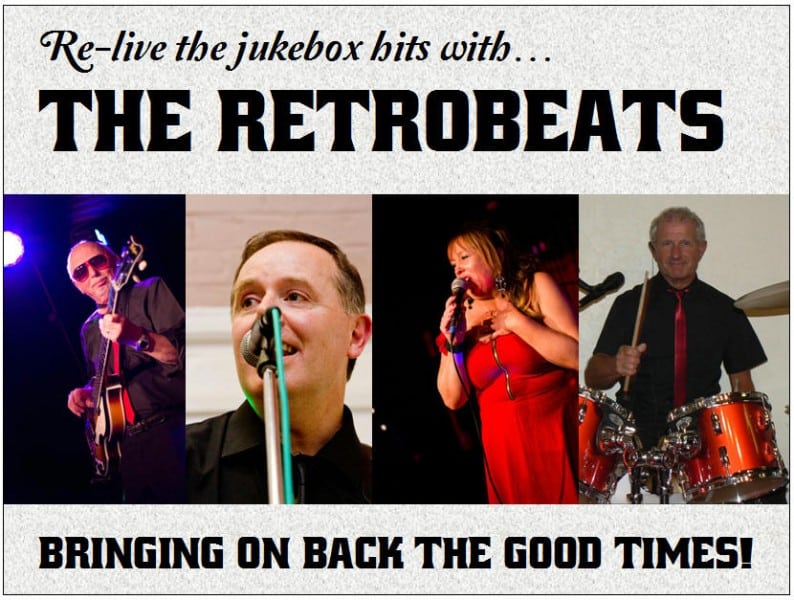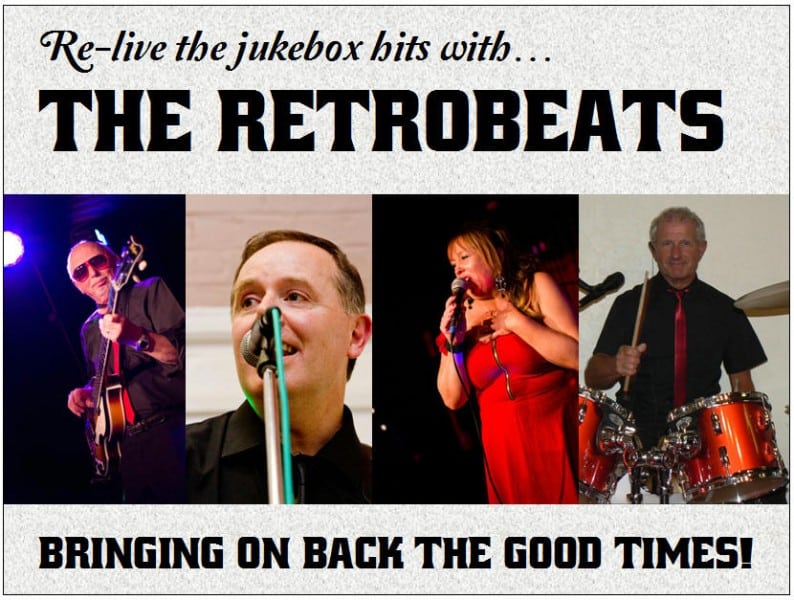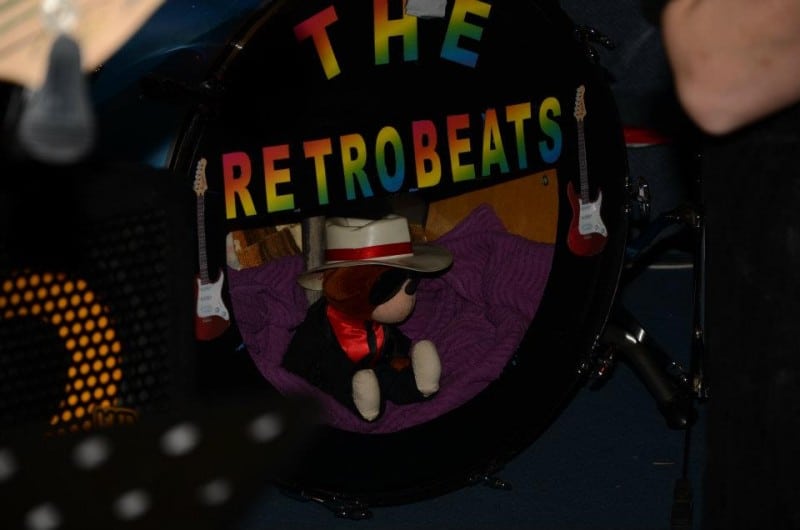 Formed in 2007, The Retrobeats are a 4 piece live band playing pop and rock
'n' roll hits primarily from the late 1950s through to the mid 1970s with a
few ballads, country and contemporary numbers thrown in too. Featuring both
male and female lead vocals with a lively stage presentation, consistently
full dance floors are a testimony to their performances. The Retrobeats
music covers a wide range of artistes… from Elvis Presley to The Beatles,
Connie Francis to Dusty Springfield, The Drifters to Manfred Mann, Leo Sayer
to Showaddywaddy and a host of one hit wonders too, they have a large
repertoire of great songs from a golden era of popular music. They try to be
a litle different and play songs that audiences have forgotten they
remember! The Retrobeats can tailor their set lists to specific eras /
genres, if desired and can provide themed 50s, 60s and rock n roll shows.
The Retrobeats are a self contained band using high performance equipment,
including lighting, where required. They are public liability insured and
all equipment is PAT tested. The band never use backing tracks and all the
music is performed by themselves at a comfortable volume to suit the venue
and occasion. They will endeavour to be as flexible and accommodating as
possible to ensure events are a success.
The Retrobeats can also offer an additional disco service at an extremely
reasonable price. Using a high quality PA system they can provide music
mixes as background to the evening's proceedings, music during breaks
between our performances and then a lively disco playing songs from all eras
and for all ages to round the night off. With this service, clients can
relax, confident that all the entertainment for the evening is taken care
of.
On 15.10.2016. my husband and I celebrated our Diamond Wedding at St
Cuthbert's ARL Club, Montrose Ave, Pemberton. We were entertained by The
RETROBEATS. Their music and songs were a pleasure to listen to. No
migraine inducing Flashing Lights, just pure entertainment. Many thanks for
a wonderful night to remember.
– Valerie Price
I hired The Retrobeats off the internet for my 80th Birthday Party,knowing
nothing about them. People of all ages (and tastes) were there, and a lot
depended on the right band to make the evening a success. The Retrobeats
scored ten out of ten in every respect. They were friendly and
accommodating; their musicianship was of a high standard, and they were
friendly and entertaining. I've said 'friendly' twice, because they
created such a relaxed and happy atmosphere – even managing to teach a few
volunteers the art of the air-guitar! If you like a bit of fun and
nostalgia BOOK THEM!"
– Alec Clark
Thank you for being the best wedding band ever! You guys were briliant!
– Bethan & Craig Shingler
The Retrobeats have played for us on two separate occasions in our local
community hall "The Pavilion", on both occasions they provided fantastic
entertainment and had everyone on their feet dancing. I look forward to
seeing the Retrobeats again in the future.
– Glenn Mellor, Oldham Garden Suburb Residents Association
Thank you for Saturday night. The evening was a great success and the
Captain and his family, like everybody else in the room , thought the music
was fantastic. You contributed to a night the Captain will not forget.
If you ever get people enquiring and asking for a reference, don't hesitate
to give them my number.
– Ian Geogarty, Hon Secretary, Darwen Golf Club
You did us proud on Saturday evening, everyone enjoyed the music, lots of
dancing and great fun, our feet and the rest of our bodies suffered the next
day!!!
– Janet Jones, Prestatyn
A big thank you to you all. Everyone commented to my mum and dad how much
they enjoyed the band and the songs you did. It was a big success all round.
If we hear of anyone who wants a band we will definitely recommend you and
if we have anymore parties I will get in touch.
– Elaine Whitham, Huddersfield
Thanks for a great night at Cheadle Golf Club. The feedback has been so
positive, probably the best night ever at the Golf Club.
– MIke Westbrook, Cheadle
Fantastic performance by The Retrobeats at my 30th Birthday party last
night, they absolutely created the perfect atmosphere for a 50's style Back
to the Future / Enchantment Under The Sea Dance and were just so
professional and absolutely made the night! Big thanks to all involved, I
had such an amazing evening bopping away! Would recommend this band to
anyone looking for a great, retro sounding band who will keep the dance
floor full all night! Thanks again!!
– Rebecca Taylor, Stockport
The Retrobeats played at our mum and dad's surprise 50th Wedding Anniversary
Party. They went out of their way to accommodate our many requests and kept
the crowd dancing 'til late. I would highly recommend booking them for a do.
We had a blast!
– Louise Rodriguez-Aitken, Wigan
Went to watch the Retrobeats and Buzz Hawkins aka The Bradshaws – what an
amazing night's entertainment. Me and my family really enjoyed our night
out.
– Di Gatley
Have finally got round to thanking you for a great night at our Golf Club
Dinner back in July. Having seen them previously I booked them for our
Captain's Week Dinner and they didn't disappoint. Everyone who attended said
they had a great night and I would recommend them to anyone.
– Paul Salt, Heyrose Golf Club captain
The Retrobeats performed at our wedding and they really rocked it! The Team
are very professional and experienced with working in various types of
venues, and took care of all of the music needs for the evening. We had some
disco requests from our guests which they catered for excellently but more
popular still was the brilliant live performance! Everybody was up dancing
and the night really went with a swing! Thanks so much!
– Geraldine and Fabrice
On behalf of Spa Town Rock n Rollers, had a fantastic night thanks to The
Retrobeats, one of the best couple of sets we've seen, really well done and
belting selection of songs. sung and only positive feedback from those
people there… will definitely be wanting you for a return performance
thanks a lot guys, see you soon.
Trevor Lowton- Spa Town Rock n Rollers Club, Buxton
.
This band really has the authentic sound of 50's and 60's pop and rock. They
played for us at the recent Warrington University of Third Age Summer
Social. We had excellent feedback on the night and on the Retrobeats in
particular. Most of our members are 60 plus so know the songs from the first
time around.Thanks for a great evening Paul, Karen, Jeff and Brian. Regards
Roger Coasby, U3A Warrington
Fab night Retrobeats, loved all the music, everyone was singing along and
even the bar staff were dancing .- Pauline, Grappenhall Beer Festival
I saw this group on Sat 6th Dec last weekend at a 80th birthday party.
this group is great. everyone got up to dance sing etc, they catered for all
ages the quality of songs music was superb, i would certainly book them.
– Alex Piorkowski
A massive thank you for playing at Altrincham Football Club beer festival
earlier this month. The Music went down very well, and The Retrobeats were
ideal for the occasion. The Retrobeats were really good – ideal 'feelgood'
music that everyone was familiar with, that helped to create a proper
Festival atmosphere. Definitely would ask them back for next year, probably
giving them a longer slot if possible.
– Steve Foster, Atrincham football Club
The Retrobeats played at my Cancer Research UK Charity Ball and Auction
Saturday 26th July 2014 and to be honest it was them that made the night.
The music and atmosphere they created was impeccable. People are still
talking about the night and the most popular comments made have been about
the band and ensuring we get them back again.
– Jude Harrison-Smith
To all The Retrobeats – would just like to say a huge thank you on behalf of
me & my family for playing at my dads surprise 50th everyone really enjoyed
themselves. Everybody commented on the band saying how good you was brought
a
smile upon everyone's face 🙂 Also would like to thank you for giving me
the pleasure of singing with you in your band it was an honour really
enjoyed myself. Will be recommending you to all friends & family. – Vicky
Littlewood
To all members of The Retrobeats
Thank you so much for helping to make my birthday party one to remember. You
were a great band, your music was fantastic and was enjoyed by everyone. It
was said everyone felt 20 years younger (I was one of them). I hope you
enjoyed playing for us also. I'm so glad my son & daughter in law found you
– I hope you get lots of bookings, your fame is spreading. Love & thoughts,
– Betty, Warrington
The Retrobeats are just fantastic! They are experienced, professional and
know how to get the crowds dancing from the first song right up until the
last song. I had the opportunity of taking pictures for the band twice and
enjoyed every minute of both. Razvan Dumitrascu
Thanks for helping us raise nearly £4000 for the Marie Curie Cancer Care at
Woolton Golf Club last weekend. Your band was great and it was good that you
could support us. Your performance was very polished and professional and
added that 'touch of class' to the evening. It was good to see everyone
enjoying themselves.It is not surprising that you are so much in demand so
it was brilliant that you could fit us in. Thanks.
– Bernie, Woolton Golf Club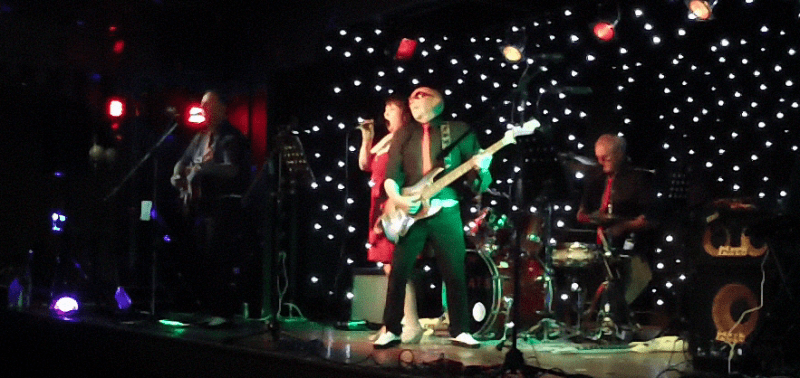 The Retrobeats – SET LIST
All my loving – Beatles
All shook up – Elvis Presley
Baby what do you want me to do – Elvis Presley
Bad Moon Rising – Creedance Clearwater Revivial
Beautiful Sunday – Daniel Boone
Blue moon of Kentucky – various
Blue suede shoes – Carl Perkins / Elvis Presley
Bring me sunshine – Various
Bringing on back the good times – Love affair
Burning love – Elvis Presley
Cant buy me love – Beatles
Chapel of love – Dixie Cups
C'mon everybody – Eddie Cochran
C'mon over to my place – Drifters
Crazy – Patsy Cline
Crocodile rock – Elton John
Do wah diddy diddy – Manfred Mann
Do you want to know a secret – Billy J. Kramer
Don't be cruel – Elvis Presley
Don't tell me you troubles – Emile ford
Dreamin' – Johnny Burnette
Easily fall in love – Cliff Richard
End of the world – Skeeter Davis
Even the bad times are good – Tremeloes
Fabulous – Charlie Gracie
Fireball XL5 – Don Spencer
Ghost riders – Ramrods
Happy together – Turtles
Happy birthday sweet 16 – Neil Sedaka
Hard day's night – Beatles
Hello Mary Lou – Rick Nelson
Heartaches by the number – Guy Mitchell
I don't care if the sun don't shine – Elvis Presley
I don't want to talk about it – Rod Stewart
I feel fine – Beatles
I only want to be with you – Dusty Springfield
I'll never get over you – Johnny Kidd
I'm gonna make you mine – Lou Christie
I'm gonna run away from you – Tami Lynn
It doesn't matter anymore – Buddy Holly
Its so easy – Buddy Holly
Jack to a king – Ned Miller
Johnny remember me – John Leyton
Jump the broomstick – Brenda Lee
Kind of hush – Hermans Hermits
Let your yeah be yeah – Pioneers
Lipstick on your collar – Connie Francis
Little bit of soap – Showaddywaddy
Living doll – Cliff Richard
Love really hurts without you – Billy Ocean
Many tears ago – Connie Francis
Maybe baby – Buddy Holly
Might as well rain till September – Carole King
More than I can say – Leo Sayer / Bobby Vee
Move it – Cliff Richard
Need your love tonight – Elvis Presley
Never be anyone else but you – Ricky Nelson
Night has a thousand eyes – Bobby Vee
Oh boy – Buddy Holly
Paralysed – Elvis Presley
Picture of you – Joe Brown
Peggy Sue – Buddy Holly
Rave on – Buddy Holly
Rock n roll music – Chuck Berry
Rockabilly Boogie – Johnny Burnette
Rocky Road Blues – Gene Vincent
Runaway – Del Shannon
Save the last dance for me – Drifters
Saw her standing there – Beatles
Say mama – Gene Vincent
Sea of heartbreak – Don Gibson
Secret Agent Man – Johnny rivers
Shake, rattle & roll – Bill Haley
Shopping around – Elvis Presley
Something – Beatles
Something tells me – Cilla Black / The Drifters
Stuck on you – Elvis Presley
Stupid cupid – Brenda Lee
Summertime blues – Eddie Cochran
Sweet little rock n roller – Showaddywaddy
Tears on my pillow – Little Anthony/Kylie Minogue
Teenage boogie – Webb Pierce
Tell him – Exciters
The letter – Box Tops
There goes my first love – Drifters
Viva Las Vegas – Elvis Presley
Walk hand in hand – Gerry & The Pacemakers
When – Kalin Twins / Showaddywaddy
Whole lotta shakin – Jerry lee Lewis
Will you love me tomorrow – Shirelles
Wondrous Place – Billy Fury
Yellow river – Christie
You got what it takes – Showaddywaddy
You're my world – Cilla Black
Constantly being added to.
Call Now

Office 01942 205577. Mobile 07896 084136.

[contact-form-7 404 "Not Found"]