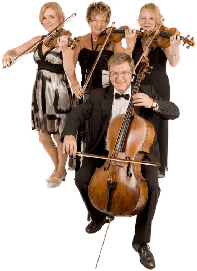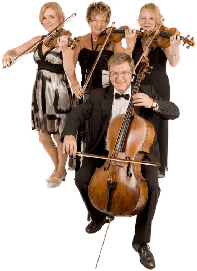 Whether you want a string quartet for your wedding in Cheshire, Derbyshire, Lancashire, Cumbria, North Wales or West Yorkshire; music for your Church or Civil Ceremony, Reception and Wedding Breakfast musical entertainment, or some background music for your Conference, Presentations and Promotions, Concert, Soiree or Garden Party, let the Family String Quartet bring the warmth and quality of their family string quartet to make your special occasion even more memorable.
When you book the family string quartet the only fixed time is the start! With over fifteen years experience of playing together, mainly for weddings, we know the importance of flexibility! We won't be rushing off at an unreasonable pre-determined time. If you're running late (it does happen!) we'll still be there.
Dear Pam, Dave, Penny & Emily,
A long overdue and huge thank you for playing at our wedding – you were brilliant.
We are sorry everything overran so terribly – thank you so much for sticking it out to the end – it was extremely kind of you.
Many guests have remarked on how great you were and how you added something very special to the day – and we agree!
Thank you again – all our love Jo & Ian
Good morning David and family,
We just wanted to say a big Thank you to you all for giving up your NYE to come and play at our wedding. You were all absolutely amazing and everyone has commented how great you were and you really added to the atmosphere. Is there anywhere we can leave a review? As we will be highly recommending you to everyone in the future. We hope you enjoyed the rest of your day and Happy New Year!
Thank you
Katie and Dave
Dear David
We would like to thank you and your family for your participation at our daughter's wedding yesterday. Your performance contributed to a lovely occasion and we had many comments from everyone at the wedding. The vicar was delighted to have you perform in the church and a number of our guests who had musical backgrounds including our organist and the former head of music at Holme Chapel Comprehensive School, had nothing but praise for your performance and your chosen repertoire.
Once again many thanks. May we also apologise for not providing you with refreshments until near the end of your time with us.
Best wishes
Liz and Tony
We would just like to thank you for the beautiful music you created at our wedding… You were all fantastic reducing us to tears on lots of the pieces
Elizabeth & Jerome April 2010
Thank you for the wonderful entertainment you provided at my aunt's 60th last weekend. The compliments have been unending! The professionalism and ease / flexibility you showed was so helpful. The music and standard were perfect + I will be recommending you highly.
Lisa September 2009
Just wanted to thank you and your family for being part of K & A's wedding day and making it such a wonderful special day for everyone. We love Classical music but appreciate it's not everyone's cup of tea but you played such a variety of music everyone loved it.
The Processional was lovely and I found it hard to contain myself walking down the aisle. I felt like a complete princess!
Caroline August 2008
Learning my special tune for me was fabulous – my walk down the aisle will be remembered for always. The Quartet made the day complete…
Alison & Mark Feb 2008
We had so many comments made about how nice it was to have a string quartet at the reception and how the volume of it was 'just right' and that the music you chose was 'perfect'. We were so pleased we chose you and are so glad you were available. Thanks once again for helping to make our wedding day so special
Joanne & Michael
The Spring Quartet's constantly expanding repertoire includes:
Bach ~ Concerto for 2 Violins, Air in G, Brandenburg Concertos 3 & 4
Blake ~ Three pieces from The Snowman
Bucalossi – Grasshopper's Dance
Capau ~ O Sole Mio
Corelli ~ Christmas Concerto
Delibes ~ Flower Duet from Lakme, Pizzicato from Sylvia
Denza ~Funiculi, Funicula
Dvorak ~ Humoresque
Ducas ~ The Sorcerer's Apprentice
Elgar ~ Idyll, Chanson de Matin
Faure ~ Berceuse
Fletcher ~ Folk Tune (& Fiddle Dance)
Fanchetti ~ Pizzicato Arabesque
Grieg ~ Morning from Peer Gynt
Handel ~ Bouree, Aire & Hornpipe 1 & 2 from Water Music, Royal Firework Suite, Largo, Zadok the Priest
Jewish trad ~ My Yiddisher Mama, Tumbalalaika, Havanagila
Mendelssohn ~ Dance of the Clowns, Polish
Monti ~ Czardas
Mozart ~ Eine Kleine Nachtmusic, Ave Verum, Marriage of Figaro Overture
& Wedding music, Saltzburg Symphony 1
Offenbach ~ Barcarolle
Ponchielli ~ Dance of the Hours
Puccini ~ Nessun Dorma
Saint Saens ~ Danse Macabre
Schubert ~ Rosamunde Overture, The Trout, Ave Maria
Smetana ~ Czech Rustic Dance
Strauss ~ Emperor Waltz, Blue Danube, Pizzicato Polka
Tchaikovsky ~ Polka , Sleeping Beauty Waltz, Nutcracker Suite, 6th Symphony 2nd movement
Vivaldi ~ Concerto in A minor,Spring (1st movt) & Winter from the Four Seasons
Weinberger ~ Polka from Schwanda the Bagpiper
Our playing is usually sprinkled with lighter music such as;
Gershwin ~ I Got Rhythm, Embraceable You, Someone to Watch Over Me
Joplin ~ Country Club, Paragon Rag
Lennon/McCartney ~ Fool on the Hill, When I'm 64, Hey Jude, Eleanor Rigby, And I Love Her
Leroy Anderson ~ Forgotten Dreams, Blue Tango, Typewriter, Belle of the Ball, Plink Plank Plunk
Mancini ~ Moon River, How Soon, Pink Panther
Teddy Bears Picnic, , Mango Walk, Elizabethan Serenade., Sound of Music selection, Moonlight in Vermont, Swanee, My Heart Will Go On (Titanic), Edelweiss, At Last, When I Fall In Love
We can add new tunes to your request where they are available for string quartet
And pop classics;
Back In Black, Highway To Hell – AC/DC · Bittersweet Symphony – The Verve · Bohemian Rhapsody – Queen · Chasing Cars – Snow Patrol Don't Stop Believin' – Journey · Everything I Do – Bryan Adams · Gonna Fly – Conti · Greatest Day – Take That, Lyla, The Importance Of Being Idle – Oasis · Groovy Kinda Love – Collins · Here Come The Girls – Toussaint · I Don't Want To Miss A Thing – Aerosmith · I Will Always Love You – Parton · Kissing You – Des'ree · Lost – Buble / Chang · Love & Marriage – Cahn/Van Heusen · Love Changes Everything – Lloyd Webber · Love is in the Air – Young · One Day Like This – Elbow · Paradise – Coldplay Por Una Cabeza – Gardel · The First Time Ever I Saw Your Face – MacColl · The Power Of Love – Jennifer Rush · Time To Say Goodbye – Sartori · Waterloo Sunset – The Kinks · You'll Never Walk Alone – Rogers & Hammerstein · Your Song – Elton John Can't Help Falling In Love With You, We've Only Just Begun and more!
Call Now

Office 01942 205577. Mobile 07896 084136.

[contact-form-7 404 "Not Found"]