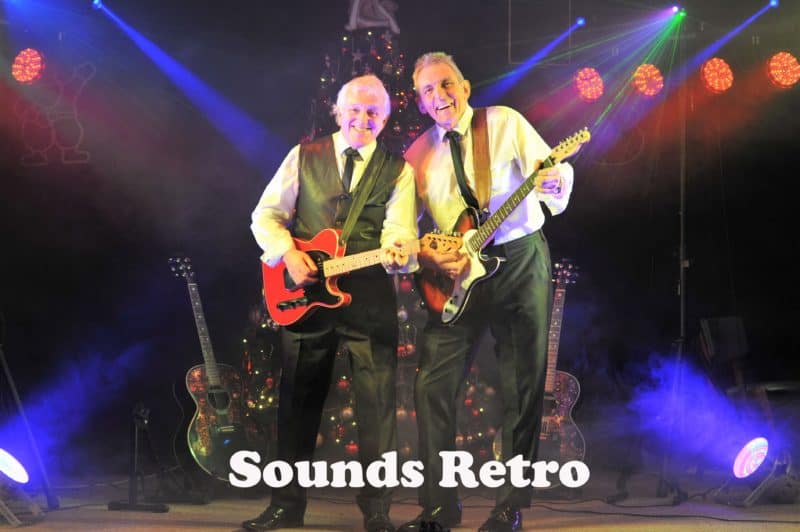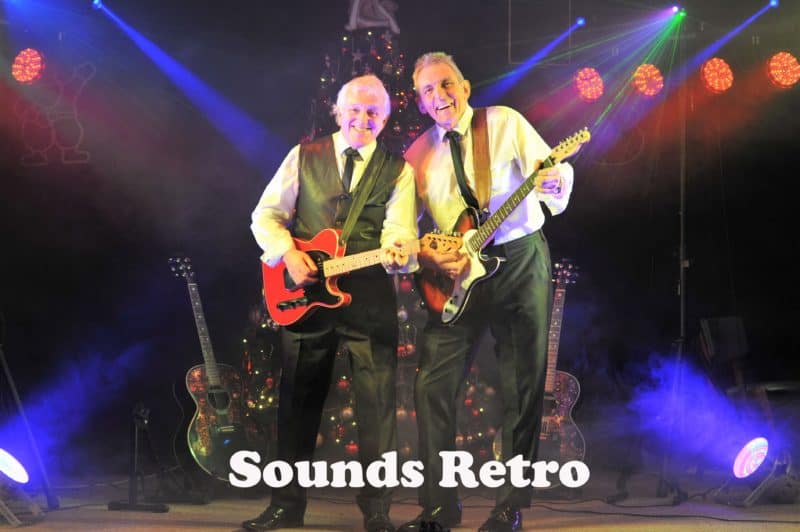 Sounds Retro
Two experienced singers/musicians, John Cross and John Watkinson who have performed in various recording bands for many years. Also performing in there own right as solo performers. Travelling all over the World their paths have crossed many times and they have now decided to combine their past experiences and talent to work together.
Including a fab Light Show,
this combination looks and sounds truly professional..
HEARTACHE TONIGHT – EAGLES 1979
TO LOVE SOMEBODY – BEE GEES 1967 – MICHAEL BUBLE 2011
TAKE IT EASY – EAGLES 1972 – BRUCE SPRINGSTEEN – 2016
HAVE YOU SEEN THE RAIN – CREEDANCE CLEARWATER 1970 – ROD STEWART 2006
THE LETTER – THE BOX TOPS – 1967 JOE COCKER 1968
WHEN YOU WALK IN THE ROOM – PAUL CARRACK 1987 (now with Eric Clapton)
DONT STOP – FLEETWOOD MAC – 1977 (BILL CLINTON CAMPAIGN SONG)
BRINGING ON BACK THE GOOD TIMES – THE LOVE AFFAIR 1969
EVERLASTING LOVE – THE LOVE AFFAIR 1968 – JAMIE CULLUM 2003
PEACEFUL EASY FEELING – EAGLES 1972
SUSPICIOUS MINDS – ELVIS PRESLEY 1969 – FINE YOUNG CANNIBALS 1985
YOU GOT IT – ROY ORBISON – 1989
ARMS OF MARY – SMOKIE – 1977
STAND BY ME – BEN E KING ALSO JOHN LENNON 1975
CRAZY LITTLE THING CALLED LOVE – QUEEN 1979
GIMME SOME LOVIN – SPENCER DAVIS ALSO THE BLUES BROTHERS 1980
DAYDREAM BELIEVER – THE MONKEES 1967
IM A BELIEVER – THE MONKEES 1967
HANDLE WITH CARE TOM PETTY AND THE HEARTBREAKERS 2003 – E L O 2015
DO YOU LOVE ME – THE BLUES BROTHERS AND THE OVERTONES 2013
HUMAN THE KILLERS 2008
END OF THE LINE – THE TRAVELLING WILBURYS 1988
LYIN EYES – EAGLES 1975
PROUD MARY – TINA TURNER 1971
THE HEAT IS ON – GLEN FRY FOR THE FILM BEVERLY HILLS COP 1984
I SAW HER STANDING – THERE BEATLES MICK JAGGER 2011 BILLY JOEL 2011
BACK IN THE USSR – THE BEATLES BILLY JOEL 1987
FOLSOM PRISON BLUES / PINBALL WIZARD – JOHNNY CASH & THE WHO
SWEET CAROLINE NEIL DIAMOND
IS THIS THE WAY TO AMERILLO – TONY CHRISTIE and PETER KAY 2005
STAND BY ME – BEN E KING ALSO JOHN LENNON 1975
GALWAY GIRL – STEVE EARL 2000
ROUTE 66 – THE ROLLING STONES AND GLEN FRY 2012
HI HO SILVER LINING – JEFF BECK 1967 VINNY JONES 2002
ROCKING ALL OVER THE WORLD – STATUS QUO 1977
BAREFOOTIN – ROBERT PARKER (A NORTHERN SOUL HIT)
SUMMERTIME BLUES THE WHO 1967 AND RUSH 2004
I GOT MY MOJO WORKING – MUDDY WATERS AND ERIC CLAPTON
Call Now

Office 01942 205577. Mobile 07896 084136.

[contact-form-7 404 "Not Found"]