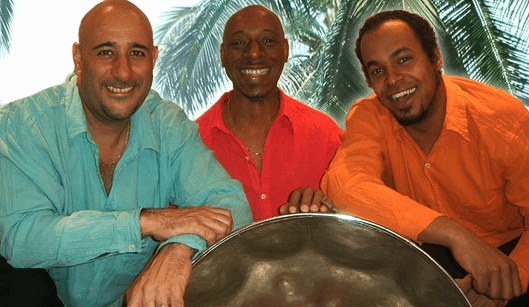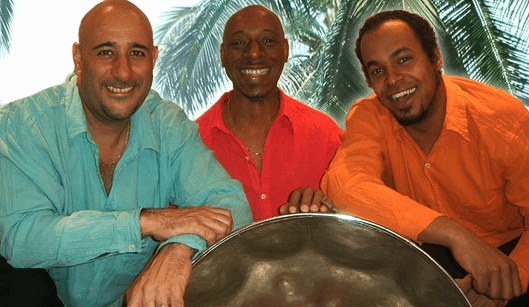 We're Solid Steel and we're a modern professional UK-based steel band or 'steel drum band' as our American cousins mistakenly call it! We're available for hire with musicians based mainly in London, but with contacts to associate steel pan players throughout the country.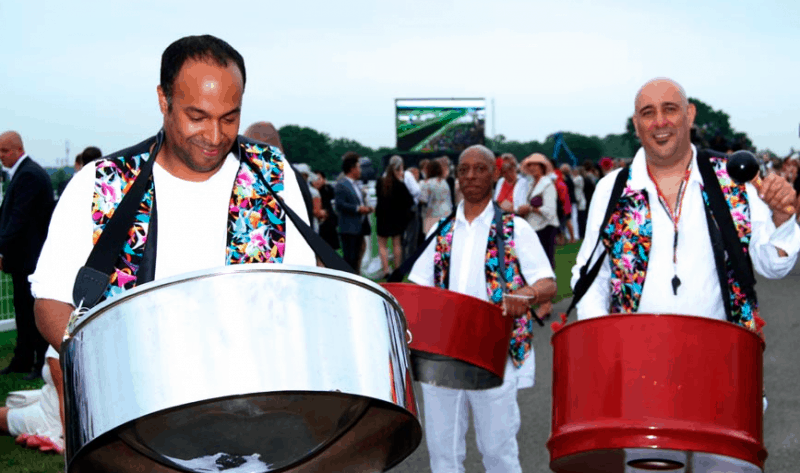 We are a small family of musicians that spans 3 generations. We regard ourselves as good musicians above all else and most of us have a second instrument we also play at a professional level.
What also distinguishes us from other steel bands is that we can offer vocals and other instrumentation to play the diverse repertoire that you can see here in our playlist.
My father's band
Our steel band was founded by myself, Paul Cherrie, in 1986, after an 'apprenticeship' served with my father Max's band, 'The Cherry Pickers', which is now based in Manchester and which I now also manage.
Max was one of the first of his generation to play pan professionally in this country. I think I may be the first second generation British-born musician to run a professional steel band, but please don't sue me if you know differently!
The band's personnel has changed in subtle ways over the years with musicians taking time off for reasons as diverse as recording commitments, tours with pop bands, and parenthood! Through all this time, it has always been my policy to employ the best musicians.
The best musicians
Miguel Barradas, Mark Cherrie, Michael Bailey, Francis Hylton, David Morris, Dennis Davis and Tom Alleyne have all played extensively with the band over the years and they all share very important qualities for me. They're musicians first and pan players second. They all play other instruments as well as pan and they all understand that to be a good musician is as much about listening as it is about playing!
Playing in a small steel band like Solid Steel is a great outlet for people with this level of ability. It's not something I particularly regret but I never had any experience of playing in a steel 'orchestra'. It always seemed to me that with the big bands you get to play the arranger's music, but with the small band you get to express yourself more and improvise.
Solid Steel's founder – Paul Cherrie
Larger steel bands – or combos
Now whereas the Cherry Pickers was- and fundamentally still is- a fully acoustic steel trio Solid Steel's musicians do like to show off their other instruments if it's appropriate. As much as I love the acoustic steel trio line-up, it's not always suitable. There are several steel bands advertised for hire in London and throughout the UK, but no other steel band and only a few function bands and a handful of wedding bands would offer greater flexibility in terms of size and format that Solid Steel offers. We try and give our clients the Caribbean steel band that they want and freely advise them of the best options to take based on our vast experience in the business.
Dancing
Sometimes we are booked to play sessions for dancing. There have been many times in the past when we've played as a steel trio, especially with vocals, when our audiences have danced to us. However, this is far from guaranteed and younger audiences especially find steel band trios too 'light' rhythmically and often prefer us to work with a bass guitar and a drummer in a bigger steel band (if 'steel band' is still the right name for you- we prefer 'steel combo'!) with a heavier rhythm. We would always advise our clients to take this option if their budget is suited to it. Then we're sure to pack the dance floor!
Solid Steel
Requests & vocals
We also play requests and are particularly suited to this because we are one of very few steel bands that offer professional standard vocals as well. Of course, this is far more doable if we have prior knowledge of your requests before your event. Unless we don't know your tune and don't consider it suitable to play on future engagements, we will freely add it to our already extensive repertoire. You can see just how extensive that is on our Song Playlist page . What we play best from this playlist is somewhat reliant on the line-up you book. However, there is one thing you can be sure of. We'll always try to play the right material for you at the right volume whether there are 3 or 12 members in the band at your event.
Traditional steel band
As a fully-instrumental and unplugged acoustic steel band the melodies that we play need to be long and strong and our own traditional Caribbean music fits the bill. We like to include a lot of traditional Caribbean material, much of it 'calypso' which is the national folk music of Trinidad & Tobago, some (but not all!) of which will be familiar to the average UK audience.
So, in this mode we are an outstanding Caribbean Folk band. As such we fit in perfectly with any venue or event that's broadly themed 'World Music'.
Solid Steel
Modern steel band
Our musicians are modern and progressive and listen to all styles of music. As our playlist shows we like to cover some modern Pop and Latin American standards, but there's a lot of great songs that don't have particularly strong melodies yet have catchy 'hooks' and are very strong rhythmically. We like to play this music too, but we prefer to play it as a steel combo with a bass guitar and a drummer and with vocals included.
So we can sing, we can perform in various sizes and guises, organise steel band workshops (see below) and generally on request mould performances that expand upon the traditional calypso and Latin styles of music that form the core of a traditional steel band music repertoire.
21st Century Pop Covers
Happy – Pharell Williams
Rude – Magic!
Shake It Off – Taylor Swift
Stay With Me – Sam Smith
Get Lucky – Daft Punk
All About That Bass – Megan Trainor
Rather Be – Clean Bandit
If I Ain't Got You – Alicia Keys
Like Glue – Sean Paul
Make You Feel My Love – Adele/Bob Dylan
Hey Ya – OutKast
Price Tag – Jessie J
Rolling In The Deep – Adele
Smile – Lily Allen
I'm Yours. – Jason Mraz
Someone Like You – Adele
Somewhere Only We Know – Keane
Turn Me On – Kevin Lyttle
Umbrella – Rihanna
Valerie – Amy Winehouse
Calypso, Soca & Island Songs
Bahia Girl – David Rudder
Ban Moin En Ti Bo – Traditional
Brown Girl In The Ring – Traditional/Boney M
Brown Skin Gal – Traditional
Dollar Whine – Colin Lucas
Don't Stop The Carnival – Alan Price
Hot, Hot, Hot – Arrow
Island In The Sun – Harry Belafonte/Traditional
Jamaica Farewell – Harry Belafonte/Traditional
Linstead Market – Traditional
Mango Walk – Traditional
Obeah Wedding – Mighty Sparrow
Old Lady Walk A Mile … – Lord Kitchener
Sloop John B – Traditional/The Beach Boys
Sly Mongoose – Traditional
St. Thomas – Sonny Rollins
Sugar Bum Bum – Lord Kitchener
Under The Sea – Disney
Who Let the Dogs Out? – Anslem Douglas
Yellow Bird – Harry Belafonte/Traditional
Reggae & Ska
Englishman In New York – Sting
Help Me Make It Through… – Gladys Knight/John Holt
I Can See Clearly Now – Johnny Nash
I Shot The Sheriff – Bob Marley & The Wailers
Israelites – Desmond Dekker
Jammin' – Bob Marley & The Wailers
Johnny Too Bad – Jimmy Cliff
Kingston Town – UB40
Monkey Man – Toots & The Maytals
Montego Bay – Freddie Notes & The Rudies
Mysterious Girl – Peter Andre
No Woman No Cry – Bob Marley & The Wailers
One Love – Bob Marley & The Wailers
Red Red Wine – UB40
Rivers of Babylon – Boney M
Stir It Up – Bob Marley & The Wailers
Sweat (A La La La La Long) – Inner Circle
Three Little Birds – Bob Marley & The Wailers
Tide Is High, The – Blondie
Waiting ln Vain – Bob Marley & The Wailers
Cuban & Brazilian Styles
Blue Bossa – Kenny Dorham
Brazil (Aquarela do Brasil) – Ary Barroso
Cachita – Rafael Hernández
Chan Chan – Buena Vista Social Club
Girl From Ipanema – Astrud Gilberto
Guantanamera – José Fernández
La Bamba – Ritchie Valens/Los Lobos
Lambada – Kaoma
Meditation – Antonio Carlos Jobim
Moliendo Café – Hugo Blanco
Never On Sunday – Melina Mercouri/Nana Mou…
Oye Como Va – Tito Puente/Santana
Peanut Vendor (El Manisero) – Moises Simons
Piel Canela – Bobby Capó
Quizás, Quizás, Quizás – Osvaldo Farrés
Samba De Orfeu – Luiz Bonfá
Sunny – Bobby Hebb
Sway – Dean Martin
Sweet And Gentle – Alan Dale
Tristeza – Astrud Gilberto
Pop & Soul Covers
Ain't No Sunshine – Bill Withers/Michael Jackson
And I Love Her – The Beatles
Breezin' – George Benson
Dancing Queen – Abba
Englishman In New York – Sting
Fields Of Gold – Sting/Eva Cassidy
Here, There And Everywhere – The Beatles
Imagine – John Lennon
Killing Me Softly – Roberta Flack/Fugees
Lately – Stevie Wonder
Let It Be – The Beatles
Lovely Day – Bill Withers
My Girl – The Temptations
Spanish Harlem* – The Drifters/Aretha Franklin
Sunny – Bobby Hebb
The Sound of Silence – Simon & Garfunkel
What's Goin' On – Marvin Gaye
Yesterday – The Beatles
You Are The Sunshine Of …. – Stevie Wonder
You Can Call Me Al – Paul Simon
Call Now

Office 01942 205577. Mobile 07896 084136.

[contact-form-7 404 "Not Found"]