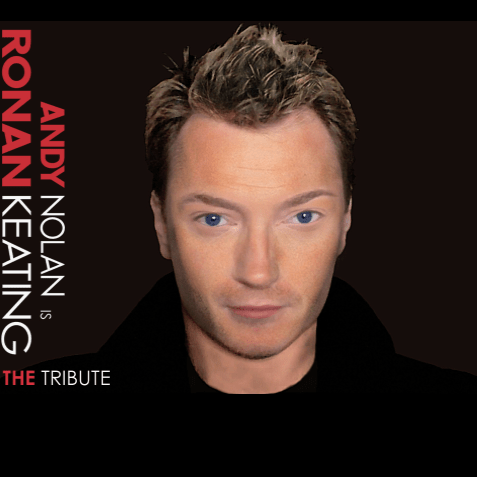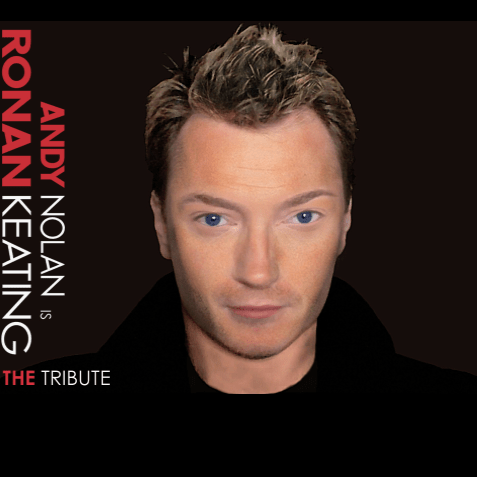 A RAPID ROLLERCOASTER RIDE!
The rise of Boyzone was phenomenal.
Under the guidance of manager Louis Walsh, the five Dublin lads quickly established themselves as the UK's no.1 boy band. However, it was front-man Ronan Keating who always stole the show, eventually going on to carve out his own solo career and become one of Europe's biggest stars…
TURN IT ON!
Andy has been singing since childhood and for many years had harboured an ambition to sing professionally, finally going full-time in 1999. He has since put his Irish roots to good use – developing his act and establishing a reputation as one of the UK's very best solo tribute artistes – in what has become a very crowded and competitive market.
"RONAN CHEATING" – The Stage
The routine of showcasing all over the U.K. has reaped it's own rewards, earning Andy the recognition of the biggest entertainment agencies in the business. This has taken him to the point where he is now in demand all over the U.K. and beyond. Delighting audiences with the very latest songs – always spot-on vocally (they just love that Dublin accent!)
always looking the part and of course, always re-booked.
Deadly!
It was summed up very well by Mark Ritchie of "The Stage"
when he reviewed one of Andy's showcase performances in Blackpool…
"…ANDY NOLAN SHOULD DO VERY WELL
WITH HIS TRIBUTE TO RONAN KEATING.
THIS HAS TO BE ONE OF THE MOST CONVINCING
LOOKALIKES AND SOUNDALIKES ON THE MARKET…"
Mark Ritchie – THE STAGE
And so, with the return of Boyzone the story continues to evolve.
The music may have changed somewhat, but the new songs take this show in a new direction and to another level.
Europe's No.1 Tribute to Ronan Keating
"Dear Andy
Melanie my wife and I had the pleasure of attending an old friend's 50th Birthday Party recently and it was, as you know a pretty Glamorous Affair.
I wanted to write and congratulate you on the enormous part you played in making the party a success.
We were really impressed with the quality and range of your performance but even more than that I was amazed at the length of time you sang for without a break. This in my mind kept the party together and retained the atmosphere brilliantly.
So often a group will play for 5 or 6 songs and then all disappear for some time and the party drops and people start to disperse.
Well done Sir.
I wish you continuing success and enjoyment in a business you clearly enjoy and hope to see you again sometime.
With my sincere best wishes"
Glan Blake Thomas
"Hi Andy
You were absolutely brilliant last night and Neil and I cannot thank you enough for making his party such a success.
Without exception everyone who contacted us today said how very good you were. You absolutely made the party and we are most grateful.
With very best wishes and hoping to see you again soon!"
Caroline and Neil Pedley
"Andy Nolan performed for us at my wife's 50th and daughters 21st joint birthday's and it was a fantastic evening – still talked about 2 years later.
It was terrific the way that he appealed to all age groups.
The added routines for Take That and Queen were an extra bonus and made for a very special evening.
I wouldn't hesitate to recommend Andy as he is a thoroughly professional and extremely entertaining performer who made the evening by allowing family members to participate – luckily not too many of them!
Thanks Andy for a great evening."
Kind regards
Stephen Antram
"A successful tribute artist should be a lookalike, a soundalike and take on the mannerisms of the performer
they are attempting to clone and Andy Nolan has all of these attributes in full measure, pulling off his
impersonation of Ronan Keating with consummate ease.
"This successful performance must surely mean that Nolan is the current market-leader in this part of the
tribute market."
Mark Ritchie – The Stage
"…after my last viewing of Andy Nolan, as Ronan Keating, I mentioned the fully rounded quality
of this particular tribute and on this latest viewing I can only echo my earlier sentiments on the real
quality of Nolan and his chosen tribute."
Mark Ritchie – The Stage
"…one of the best voices on the showcase"
Peter Hepple – The Stage
"Likewise, Andy Nolan should do very well with his tribute to Ronan Keating. This has to be one of the most
convincing lookalikes and soundalikes on the market and as long as Keating remains popular, Nolan should be
laughing all the way to the bank."
Mark Ritchie – The Stage
Boyzone Tracks
Ronan Keating Tracks
Love me for a reason
Melting pot
She moves through the fair
Working my way back to you
Isn't it a wonder
Arms of Mary
Baby can I hold you
Every day I love you
Coming home now
Words
I love the way you love me
A different beat
All that I need
Picture of you
When the going gets tough
No matter what
Father and son
You needed me
Love you anyway
Better
Gave it all away When you say nothing at all
Ronan Keating Tracks
When you say nothing at all (dance mix)
Life is a rollercoaster
The way you make me feel
Loving each day
Lost for words
Father and son (new version)
Love won't work (If we don't try)
She believes (In me)
If tomorrow never comes
If tomorrow never comes (dance mix)
I love it when we do
Fairytale of New York (duet)
We've got tonight (duet)
Brown eyed girl
The long goodbye
Only for you
If you love me
If I don't tell you now
I hope you dance
Believe
Last thing on my mind (duet)
When the World was mine
In this life
Brighter days
Call Now

Office 01942 205577. Mobile 07896 084136.

[contact-form-7 404 "Not Found"]