Paul McCoy vocalist 60s 70s & swing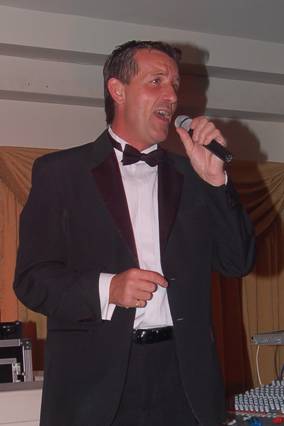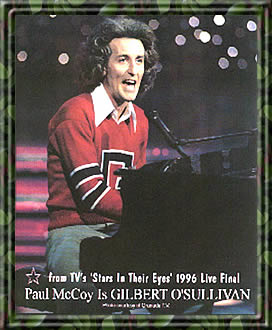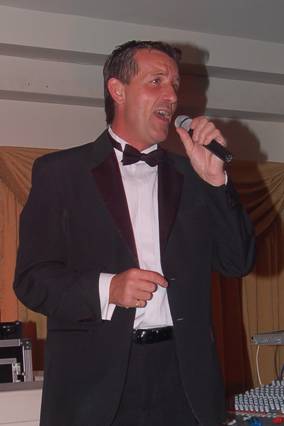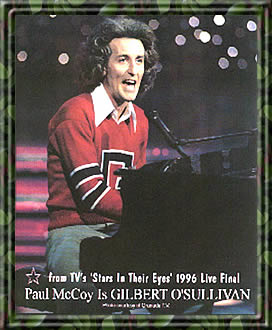 Paul McCoy
Paul McCoy was a founder member of 'Penny Lane' in the early 1980's. Penny Lane were one of the first Beatles Tribute Bands in the UK alongside 'Cavern' and The 'Bootleg Beatles'. They toured Germany, Holland, Africa and Great Britain, supporting the likes of 'The Searchers', 'The Troggs', 'Gerry & The Pacemakers', 'Showaddywaddy' and many more. They performed at the 'John Lennon Memorial Concert' in March 1980 (which was regarded as the beginning of the 'Mathew Street Festival') appearing with Alan Williams the ex-Beatle manager.
Paul started a solo career in 1987 performing in local and national pubs and clubs as a Guitar/Vocalist. In 1996 he won his heat in the popular Granada T.V. programme "Stars In Their Eyes' as 'Gilbert O'Sullivan' and performed in the Live Grand Final with over 18 million viewers tuning into to I.T.V.
Since then he has worked up and down the country and on the continent appearing with many top names including – The Houghton Weavers, Norman Wisdom, Stan Boardman, Bernie Flint, John Miles and many more, appearing at various venues including Southport Theatre, Floral Pavillion New Brighton, Buxton Opera House, City Varieties in Leeds, The Lyceum, Crewe and St Helens Theatre Royal.
Paul is renowned for his many vocal impressions and has been performing as a 'Dean Martin' tribute act since 2002. His act includes impressions of Dean Martin, Frank Sinatra, Neil Diamond, Louis Armstrong, Tom Jones and of course, Gilbert O'Sullivan amongst many others.
Paul has recorded a number of Albums including 'The Gilbert O'Sullivan Songbook' 'Rock"n Country Dance Party', Boot Scootin Boogie, Better Late Than Never and Glam Rock Mega Mix.
He also produced and arranged the 'Stan Boardman World Cup Song' in June 2006, which reached number 15 in the UK Charts.
Paul's latest project is 'Wag – a Comedy Musical' which he has spent the last two years writing with 'Stan Boardman'. He has composed five original songs for the play and also plays the part of 'Jimmy'. Wag-Amusical opened at the Unity Theatre , Liverpool in June 2012, and further dates are yet to be announced for 2013.
Call Now

Office 01942 205577. Mobile 07896 084136.

[contact-form-7 404 "Not Found"]