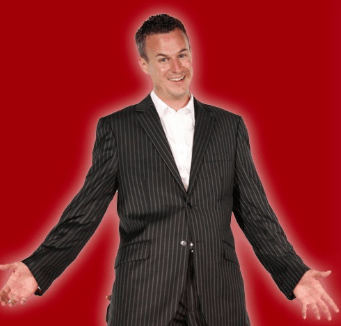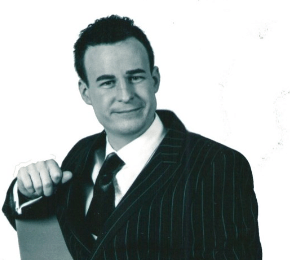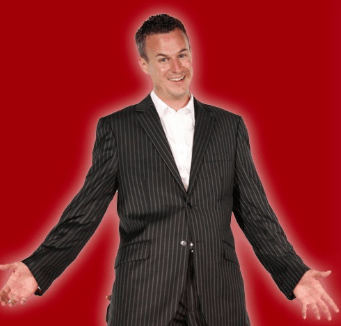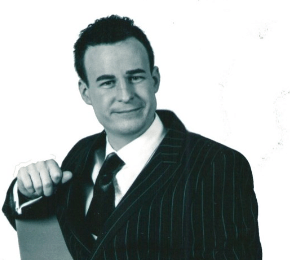 The name Paul Eastwood springs to mind when a top class act is required by discriminating clients – he is a leader of a new breed of modern comedy entertainers breathing fresh life into the entertainment industry.
Paul's career to date is a success story, having made a real name for himself on the national and international circuits, he is now regarded as a number one comic with the natural ability to walk into any situation and come up trumps!
This artist is constantly in demand to perform at major events for large companies and organisations and can be relied upon to theme and adapt each show accordingly…….. the list is huge but includes performances for many of the number one sporting associations: British boxing, Leeds United Football Club, Golf Clubs, Variety Clubs, The Farmers Union, Royal Marines, Royal Navy, The Conservative Party Conference, The International Brotherhood of Magicians, British Telecom, Phillips Electronics, Sky TV, Channel 4 and more!
Paul's work takes him all over the world cruising with: P&O, Island Cruises, Ocean Village, Thomson, First Choice and many off international conferences and events.
As an experienced theatre comic, Paul's work includes several long summer seasons as lead comic for Matthews Productions in their Babbacombe and Eastbourne theatres. He has also starred in number one pantomimes around the country.
A superb Presenter & Compere in Theatre, Cabaret, TV (having appeared on Channel 4 & Sky TV) and for large outdoor events. Paul also writes and produces sketches and game show concepts for TV. This artiste has tremendous talent, backed up with a vast experience in all facets of the industry.
"How nice to see a talented comic on the circuit witty, quick and confident. I can see him going far and can't wait to see him again" – Ricky Tomlinson
"He is a Star Performer who interacts beautifully with his audience and is genuinely very funny" – The Telegraph
"Paul Eastwood has definitely got funny bones" – The Stage
"Paul Eastwood is one of the brightest young comics around. His stage presence turns up the heat nicely" – The Stage
"Make no mistake Paul Eastwood has what it takes" – The Stage
"Comedian Paul Eastwood's relaxed and cheeky style is slick and most engaging" – The Express
"Paul Eastwood a long legged cheekie chappy with a slick comic routine" – The Stage
"Paul Eastwood raised gales of laughter, a likable you man for whom I predict a great future, if only TV Producers would get out a bit and have a look around" – The Encore
"Paul Eastwood a comedian with a considerable future in his sights adapting the fashionable slightly aggressive stance, he adopts a bountiful suuply of material to the situation" – The Stage
'The quick-fire wit of compare, Paul Eastwood, bang on form, rattling more than a few cages and proving that, on his day, he's one of the best emcees around' – Derek Smith, The Stage 2011
"Paul has gone from strength to strength and is now a really well established favourite for so many people. Over the years I have booked some great products at home and abroad and watching Paul Eastwood develop it has become very apparent that he has turned into not only one of my favourite comedians but one of those comedians that can work anywhere and most definitely has the gift of making people laugh. Great Comics don't come along that often these days" Carnival UK, Cunard, P&O and Ocean Village Cruises.
Call Now

Office 01942 205577. Mobile 07896 084136.

[contact-form-7 404 "Not Found"]