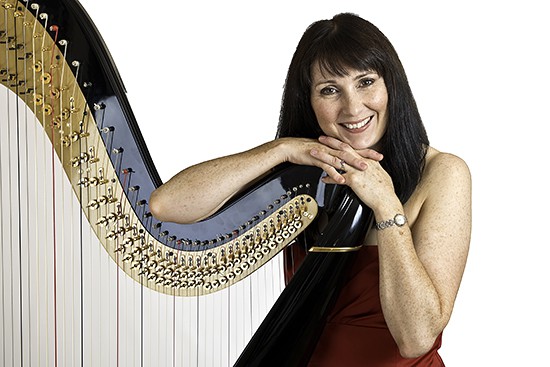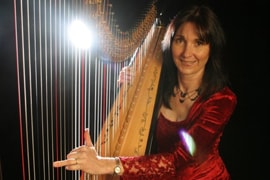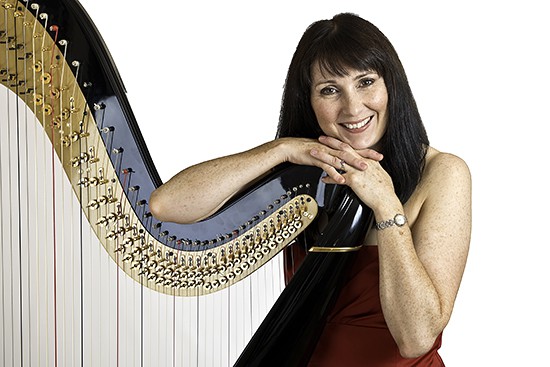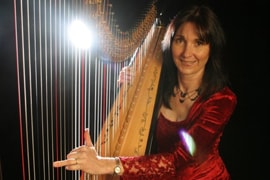 After graduating with a Bachelor of Music Degree from Edinburgh University, in 2001 Oona achieved a Performers' Diploma on the harp with the Associated Board of the Royal Schools of Music. After this she studied for a Masters Degree at Bangor University, specialising jointly in the study of Music of the Celtic Countries and in Performance on the Harp, under the tuition of the renowned harpist Elinor Bennett.
Oona is now a harpist with many years' experience, having played in numerous reputable hotels and venues throughout North West England and North Wales, including weddings and other private functions. She offers a wide repertoire of music in different styles ranging from classical, to Celtic, to modern. Performing on both the full-sized concert harp and smaller Celtic harp, tailored to create the perfect ambiance for the particular special occasion.
For both religious and civil weddings, music can be played at the following points of the ceremony:
The processional
The signing of the register
The recessional
The arrival and departure of guests
Furthermore, a harpist can create a perfect atmosphere during the champagne reception and/or the wedding breakfast with up to two hours of beautiful background music.
Canon in D (Pachelbel)
Bridal March (Wagner)
Chaconne (Clarke)C
Flower Duet (Delibes)
Give Me Your Hand (Trad.)C
Llety'r Bugail ('The Shepherd's Abode') (Trad.)
Signing of the register
Prelude in C (J. S. Bach)
Canon in D (Pachelbel)
Flower Duet (Delibes)
Ricordo Ancor ('Pelagia's Song' from 'Captain Corelli's Mandolin') (Warbeck) C
Gymnopedie No. 1 (Satie)
Chaconne (Clarke) C
Ave Maria (Schubert)
Allegro (Handel)
And I Love Her (The Beatles) C
Recessional (exit of couple and guests)
Trumpet Voluntary (Clarke)
Canon in D (Pachelbel)
Chaconne (Clarke) C
Carolan's Concerto (O'Carolan) C
Prelude in C (J S Bach)
Wedding March (Mendelssohn)
General Repertoire
This section contains suggestions for pieces that can be played at any point during the Ceremony, during the Drinks Reception and Wedding Breakfast, and also as background music for other functions. The titles are categorised according to musical style, and listed alphabetically.
Classical
Air on a G String (Bach)
Allegro (Handel) C
Au Bord du Ruisseau (Renie)
Ave Maria (Schubert)
Balcony Scene (from 'Romeo and Juliet') (Craig Armstrong) C
Canon in D (Pachelbel)
Cavatina (Myers)
Chaconne (Clarke) C
Chanson dans la Nuit (Salzedo)
Flower Duet (Delibes)
Gabriel's Oboe (from 'The Mission') (Morricone) c
Gymnopedie No. 1 (Satie)
'Hornpipe' from 'Water Music' (Handel)
I Giorni (Ludovico Einaudi)
Largo from 'Winter', from 'The Four Seasons' (Vivaldi)
'Morning' from Peer Gynt (Grieg)
Nocturne (Glinka)
Passacaille (Handel)
Pavane (Fauré)
Pie Jesu (Lloyd Webber) C
Prelude in C (J S Bach)
Prelude No. 3 (Tournier)
Rhapsody on a Theme of Paganini, 18th Variation (Rachmaninoff)
Ricordo Ancor ('Pelagia's Song' from 'Captain Corelli's Mandolin') (Warbeck)
River Flows in You (Yiruma)
'The Godfather' Love Theme (Nino Rota)
The Queen of Sheba (Handel)
Time to Say Goodbye (Con te partirò) (Sartori)
To a Wild Rose (MacDowell)
Popular / Easy Listening
A Thousand Years (from 'The Twilight Saga – Breaking Dawn') (Christina Perri)
A Whiter Shade of Pale (Procol Harum)
A Whole New World (from Disney's 'Aladdin') (Menken)
All I Ask of You (from 'Phantom of the Opera') (Lloyd Webber) C
All of Me (John Legend)
All the Things You Are (Kern/Hammerstein)
Always (Jon Bon Jovi)
Amazed (Lonestar)
And I Love Her (The Beatles) C
Aniron (from 'Lord of the Rings') (Enya)
Annie's Song (John Denver)
Beauty and the Beast (Menken)
Blue Moon (Rodgers/Hart)
Can't Help Falling in Love (Elvis Presley)
Can You Feel the Love Tonight? (from Disney's 'The Lion King') (Elton John)
Cavatina (Myers)
Chasing Cars (Snow Patrol)
Circle of Life (Elton John)
Clocks (Coldplay)
Crazy Little Thing Called Love (Queen)
Endless Love (Lionel Ritchie)
Evening Falls (Enya)
Evenstar (Lord of the Rings)
Everything I Do (Bryan Adams)
Fields of Gold (Sting)
Flightless Bird, American Mouth (from 'The Twilight Saga: Breaking Dawn') (Samuel Beam)
For the Love of a Princess (from 'Braveheart') (Horner)
From This Moment On (Shania Twain)
Greatest Day (Take That)
Have I Told You Lately That I Love You? (Van Morrison) C
Heaven (Bryan Adams)
Hedwig's Theme (from 'Harry Potter') (Williams)
Hey Jude (The Beatles)
How Long Will I Love You? (Ellie Goulding)
I Get a Kick Out of You (Porter)
I Giorni (Ludovico Einaudi)
I'm Yours (Jason Mraz)
In My Life (The Beatles)
Into the West (from 'Lord of the Rings') (Shore/Walsh)
I Won't Give Up (Jason Mraz)
Kissing You (from 'Romeo and Juliet') (Des'ree)
Kiss the Girl (from Disney's 'The Little Mermaid') (Menken)
Love Me Tender (Elvis Presley)
Married Life (theme from Disney/Pixar's 'Up') (Giacchino)
Marry You (Bruno Mars)
May It Be (Enya)
Moon River (Mancini/Mercer)
My Heart Will Go On (from 'Titanic') (Horner) C
North (the 'Visit Scotland' advert) (Paul Mounsey)
Nothing Else Matters (Metallica)
One Day Like This (Elbow)
Over the Rainbow (Arlen/Harburg)
Paradise (Coldplay)
Right Here Waiting (Richard Marx)
River Flows in You (Yiruma)
Skyfall (Adele)
The First Time Ever I Saw Your Face (MacColl)
The Last Thing On My Mind (Tom Paxton)
The Wind Beneath My Wings (Henley/Silbar)
The Wonder of You (Elvis Presley)
Think of Me (from 'Phantom of the Opera') (Lloyd Webber)
Time to Say Goodbye (Con te partirò) (Sartori)
To Make You Feel My Love (Dylan/ Adele cover)
Truly Madly Deeply (Savage Garden)
Unchained Melody (North/Zaret) C
Waterfall (Stone Roses)
Watermark (Enya)
What a Wonderful World (Louis Armstrong)
When You Wish Upon a Star (from Disney's 'Pinocchio') (Harline/Washington)
Wherever You Are: The Military Wives' Prayer (Mealor)
Wonderful Tonight (Eric Clapton) C
You'll Never Walk Alone (Rodgers/Hammerstein)
You Raise Me Up – Westlife (Lovland/Graham)
Your Song (Elton John)
You're Beautiful (James Blunt)
You're Still the One (Shania Twain) C
Traditional Music of the British Isles
Andowin at da Bow (Trad.) C
Ar Lan y Môr (Trad.)
Berwyn (Delyth Evans) C
Bugeilio'r Gwenith Gwyn (Watching the Wheat) (Trad.)
Calon Lân (James/Hughes)
Cariad Pur (True Love) (Delyth Evans) C
Carolan's Concerto (O'Carolan) C
Carolan's Welcome (O'Carolan) C
Cockles and Mussels (Trad.)
Cruit gun Cheis, Ceall gun Aba (A Harp without a Key) (Kennedy) C
Dafydd y Garreg Wen (David of the White Rock) (Trad.)
Danny Boy / The Derry Air (Trad.) C
Don Oiche Ud I mBheithil (The Night in Bethlehem) (Trad.) C
Down by the Salley Gardens (Trad.) C
Eleanor Plunkett (O'Carolan) C
Give Me Your Hand (Trad.) C
Greensleeves (Trad.) C
Lament for a Blind Harper (Stevenson) C
Last Rose of Summer (Trad.)
Llety'r Bugail ('The Shepherd's Abode') (Trad.)
Llydaw (Brittany) (Trad.) C
Lord Galway's Lamentation (O'Carolan) C
Merch Megan (Megan's Daughter) (Trad.) C
My Lagan Love (Trad.)
My Love is like a Red, Red, Rose (Trad.) C
Och Nan Och, 'smi fo leireadh (Trad.)
Scarborough Fair (Trad.) C
She Moved Through the Fair (Trad.)
Suo Gân (Trad.) C
The Ancient Sports of the Glen (Trad.) C
The Bard of Armagh (Trad.) C
The Fields of Athenry C
The Galway Piper (Trad.)
The Lark in the Clear Air (Trad.)
The Last Rose of Summer C
The Leaving of Liverpool (Trad.)
The Mermaid's Song (Trad.) C
The Swan (McKay) C
The Walls of Liscarroll (Trad.) C
Walsh's Hornpipe (Trad.) C
Y Deryn Pur (The Gentle Bird) (Trad.)
Bollywood / Asian
Chukar Mere Manko
Chura Liya Hai
Guzaarish
Kal Ho Naa Ho
Khabi Kushi Khabi Ghum
Kuch Kuch Hotha Hai
Meri Mehbooba
Om Jai Jagdisha Hare
Pehla Nasha
Pehli Nazar Mein (from 'Race')
Piyu Bole
Pyar Diwana Hota Hai
Tuje Dekha To Ye Jaana Sanam
Tujhko Jo Paya
Tum Hi Ho (from 'Aashiqui 2')
Jewish
Artsa Alinu
Chorsha ha Eucaliptus C
Dodi Li ('I Am My Beloved's')
Erev Shel Shoshanim
Hava Nagila
Hevenu Shalom
Hine Ma Tov
Jerusalem of Gold
Kadosh
Kozatzke
L'cha Dodi
Mi Yitnami Of C
Oseh Shalom
Sh'ma Yisroeyl
Sunrise, Sunset (from 'Fiddler on the Roof') (Bock/Harnick)
Christmas Repertoire
Away in a Manger
Have Yourself a Merry Little Christmas
In the Bleak Midwinter
Silent Night
Walking in the Air
We Three Kings of Orient Are
When a Child is Born
White Christmas
Call Now

Office 01942 205577. Mobile 07896 084136.

[contact-form-7 404 "Not Found"]