Johnny Sax vocals sax pop rock & soul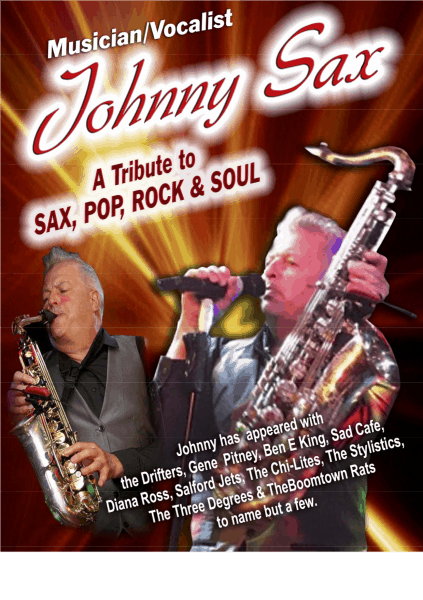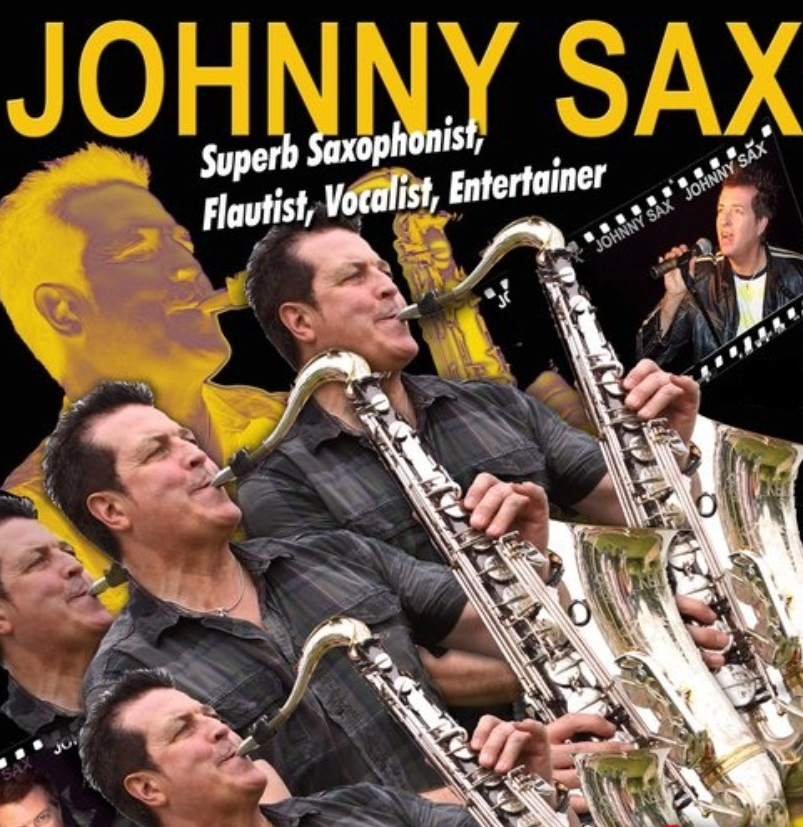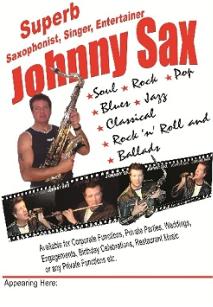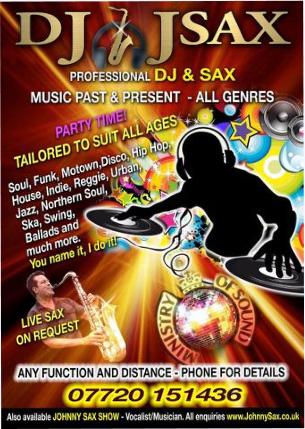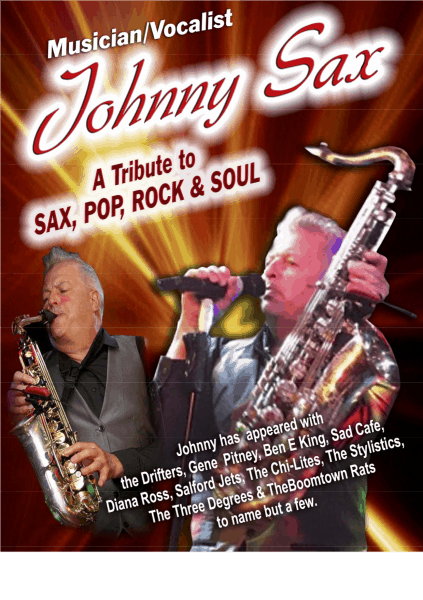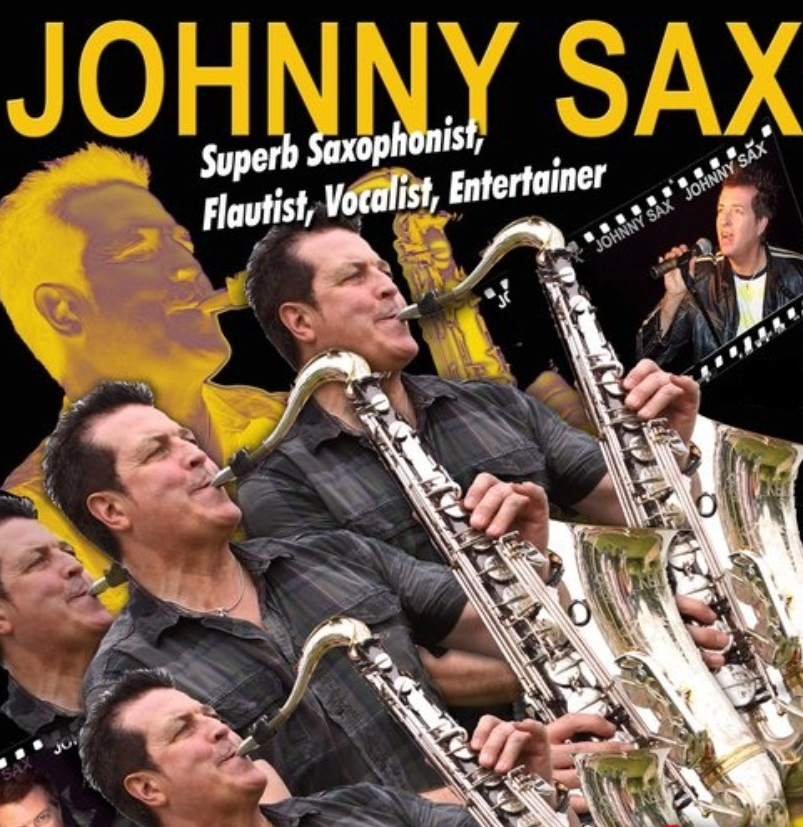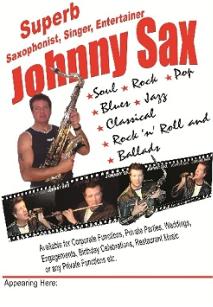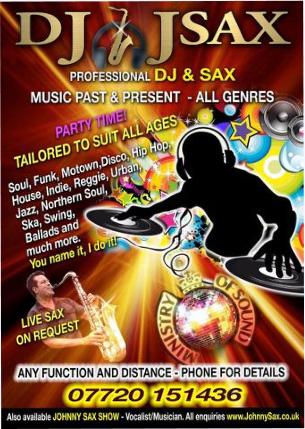 A seriously competent musician and entertainer, Johnny can give your event or private function a programme tailored to your specification. Johnny is available as a self contained artiste able to play and sing all different styles of music to suit your taste, at any venue or function along with a full professional P.A. and computer controlled laser and light show. (Venue permitting) He has an in-depth knowledge of soul, pop, rock 'n' roll, jazz and classical music. He can play and read music in any style. Johnny Sax has spent his whole life "in the business" and has experience in film, T.V. and studio session work (also as a recording vocalist). He is a regular session-man with the very best swing and big bands, jazz and soul bands. His client list is equally impressive…. Johnny has appeared with the Drifters, Gene Pitney, Ben E King, Sad Café, Diana Ross, The Salford Jets, The Chi-Lites, The Stylistics, The Three Degrees, Luther Vandross together with some of the world's finest jazz-greats including Bobby Shew and the incomparable Maynard Ferguson. Johnny is also available with his 10 piece orchestra.

Johnny has received an award from M.B.M. (Music Business Management Ltd) for the best Male Vocalist/Musician 2007, it is an award which is not given out lightly and reflects an artistes on going quality, commitment, and reliability in what he or she does.The award was made at the annual award ceremony held by M.B.M. at Rochdale Football Club on the 8th January 2008, and was presented by Anne Barrett, Managing Director of MBM who is currently Vice Chairman of the Agents Association of Great Britain (Northwest).M.B.M. as a company now has over 30,000 artistes on their national database, covering over 60 different types of entertainment and books over 8,000 events.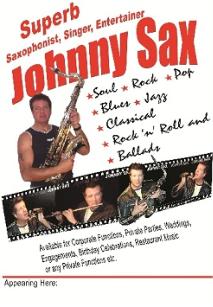 Baker Street Forever Love I Can See Clearly Now Pigbag Doctors Orders The Seduction Songbird Pick Up The Pieces Always and Forever It Must Be Love All Shook Up Three Little Birds (Don't Worry) Breakfast at Tiffanys What Does It Take Rock 'N' Roll Medley Kingston Town Tequilla Hold Back The Night Just Want To Dance The Night Away Lovely Day American Trilogy Suspicious Minds Heartbreak Hotel It's Now Or Never C C Rider The Wonder Of You Love Me Tender Always On My Mind Lily Was Here Falling In Love Crazy Little Thing Called Love Uptown Girl I'm Doing Fine Now Lady Your My First My Last My Everything Ain't No Stopping Us Now Buttercup Just The Way You Are How Sweet It is To Be Loved By You Roadrunner This Old Heart Tears Of A Clown Hey Baby Sister and Brother There Goes My First Love Kissing In The Back Row Do Wah Diddy It'll Be Lonely This Christmas Merry Christmas Everybody Baby Give It Up Delilah Working My Way Back To You Babe Moon River Love Train Summertime I'm Gonna Wait Til The Midnight Hour Mustang Sally Sexbomb Hero Higher and Higher Sweet Soul Music Killing Me Softly With His Song Johnny B Goode I Like To Party New York New York La Bamba I Wonder Why Let's Dance The Lady Is A Tramp Let's Stick Together Is This The Way To Amarillo You Are The Sunshine Of My Life Break Your Heart Beautiful Monster The Sweetest Feeling You To Me Are Everything Brown Eyed Girl Soulman Sugar Pie Gimme Just A Little More Time I Feel Good Somewhere I'm not In Love Lucy In The Sky With Diamonds Do You Really Want To Hurt Me Sex On Fire Use Somebody Just Can't Get Enough Sweet Child Of Mine Feel Like Making Love Sledgehammer Out Of Reach Everlasting Love Ziggy Stardust Rebel Rebel SorrowChanges Love Is The Drug Sweet Caroline You Give Love a Bad Name Fields Of Gold Ain't That A Kick It The Head Have You Met Miss Jones Let There Be Love It Had To Be You Come Fly With Me The Lady Is A Tramp Fly Me To The Moon Beyond The Sea Summerwind Sway Mack The Knife I've Got You Under My Skin Can't Take My Eyes Of You My Way James Bond Instrumentals Cry Me A River Fever God Bless The Child Harlem Nocturne The Pink Panther Moonglow Swinging Shepherd Blues A Night In Tunisia Bernies Theme One Note Samba Opus One Satin Doll Slightly Out Of Tune Straight No Chaser Take The 'A' Train Yardbird Suite Bridge Over Troubled Water Candle In The Wind Everything I Do Imagine Nights In White Satin One Day I'll Fly Away Wind Beneath My Wings Without You Wonderful Tonight I Believe I Can Fly Never Ever Tears In Heaven I Am Blessed Torn 2 Become 1 Words Besame Mucho Dos Gardinias The Girl From Ipanema GuantanamaraLambadaOye Como VaPerhaps Perhaps PerhapsBaby One More Time Bring It All Back Livin' Da Vida Loca Mi Chico Latino Perfect Moment That Don't Impress Me Much Tragedy What Can I Do When Your Gone When You Say Nothing At All Caught In The Middle Emotion Eternity Evergreen If You Come Back Queen Of My Heart What If Whole Again You All The Things You Are CorcovadoIn A Sentimental Moodin Walked BudLullaby Of Birdland My Favourite things Oleo The Sidewinder The Way You Look Tonight Arabian nights The Bare Neccessities A Change In Me Hawaiian Rollercoaster Rides Honour To Us All I'm Still HereIt's A Small World Look Through My Eyes The Medallion Calls Promise Siamese Cat Song Supercalifragelisticxpalidocious Two Worlds Where The Dream Takes You Yo Ho Anthropology Confirmation Doxy Epistrophy Groovin' HighLadybird Ornithology Scrapple From The AppleI Heard It Through The Grapevine I Say A Little Prayer Private Number Dock Of The Bay Stand By Me Take Me To The River Born Free Eye Of The Tiger Georgia On My Mind I Will Always Love You I've Had The Time Of My Life Kiss From A Rose Nothin Gonna Stop Us Now Pretty Woman Ring Of Fire Stayin' Alive Chiquitta Don't Go Breaking My HeartIf You Leave Me Now Never Let Her Slip Away When I Need You Your So Vain Ain't nothing But Us Chickens Flying Home Hit That Jive Jack Getting Sentimental Over You Is You Or Is You Ain't My Baby Jump, Jive an' Wail Peridido Swing That Music Tuxedo Junction Zoot Suit Riot All My Loving Daydream Good Vibrations Mrs Robinson Sweets For My Sweet Under The Boardwalk What a Wonderful World Against All Odds The Air That I Breathe Have I Told You Lately How Deep Is Your Love If Tomorrow Never Comes Nothing Compares To You Time After Time Tonight Your Song Gimme Some Lovun 'Shake A Tail Feather Everybody Needs Somebody Minnie The Moocher American Pie Breathless Desert RoseI Have A Dream She's The One Ashes To Ashes Beautiful Can't Get You Out Of My Head Careless Whisper Feel Lady In Red My Heart Will Go On (Titanic) The Name Of The Game Daydream Believer My Girl And more – Too many to list…..I can provide live music for your Product Launch, Corporate Events, Church Wedding/Breakfast,Cival Ceremonies, Dinner Music, Restaurant, Reception or Party on Vocals, Saxes or Flute.Any Traditional Xmas Carols and Classical Music
Call Now

Office 01942 205577. Mobile 07896 084136.

[contact-form-7 404 "Not Found"]