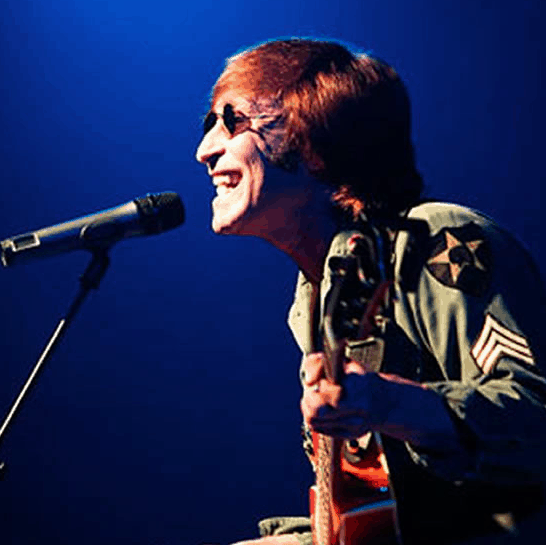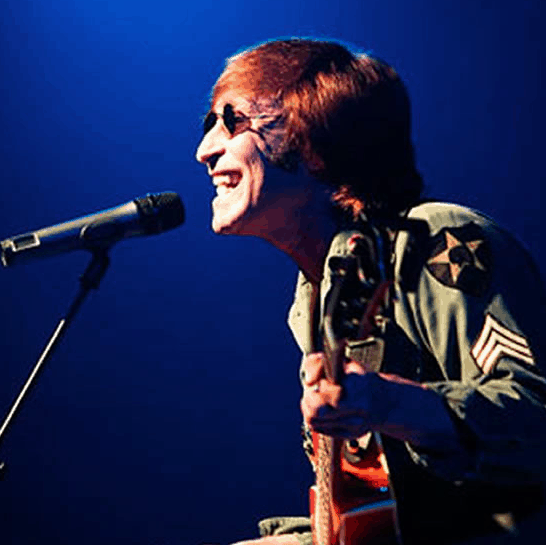 Gary Gibson was the founder member of 'The Cavern Beatles' back in 1980 along with band members Graham Pollcok, John Ward, and Andrew Swarbrick, playing at venues throughout the north. By 1981 the band began to appear in London at venues such as The Rock Garden, Dingwalls, Golden Lion, Dublin Castle, Half Moon and the Hippodrome, the band also made regular television appearances, 'Stars In Their Eyes' 'Pebble Mill' 'The Late Late Show' with Gay Burns, who introduced the real Beatles on Granada television back in the 1960's, and again on a 'Stars In Their Eyes Christmas Special' The band also performed for a six week stint on Norway Television.
On the last Pebble Mill the 'Cavern Beatles' performed for George Martin who, along with Victor Spinnetti, talked about the making of 'Hard Day's Night'.
At a racing fraternity party Sir Elton John asked Gary if he could get up and sing with the band. "What shall we sing?" Gary asked. "Lets do that one I did with John (Lennon) at Madison Square Gardens 'I Saw Her Standing There' replied Elton. Afterwards, back stage, Elton commented, "I can't believe it, you look so much like John. You've got to be related"!
The Fantasy Song Set
Ballad of John and Yoko
Beautiful Boy
Cold Turkey
Come Together
Don't Let Me Down
Free As A Bird
Give Peace A Chance
Glass Onion
Grow Old With Me
I Am The Walrus
I Want You (She's So Heavy)
I'm Losing You
Imagine
In My Life
Instant Karma
Isolation
Jealous Guy
Julia
Lucy In The Sky With Diamonds
Money
New York City
Nobody Told Me
No. 9 Dream
Oh Yoko
Revolution Slippin' And Slidin'
Stand By Me
Starting Over
Strawberry Fields Forever
Watching The Wheels
Whatever Gets You Through The Night
Woman
Yer Blues
The Experience Song Set
Love Me Do
Ballad of John and Yoko
Hey Jude
I Want To Hold Your Hand
Imagine
Woman
Eight Day A Week
You Can't Do That
Starting Over
Get Back
Revolution
Rock 'n' Roll Music
I Saw Her Standing There
From Me To You
Help
I Feel Fine
No Reply
Back In The USSR
Johnny Be Good
This Boy
Please Mr Postman
Please Please Me
Slow Down
Ticket to Ride
Twist And Shout
She loves
You Hide Your Love Away
Lucille
Call Now

Office 01942 205577. Mobile 07896 084136.

[contact-form-7 404 "Not Found"]