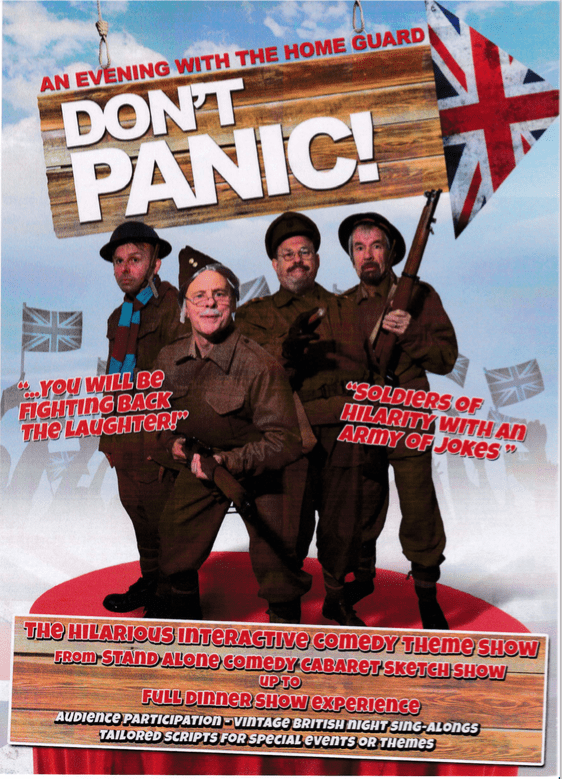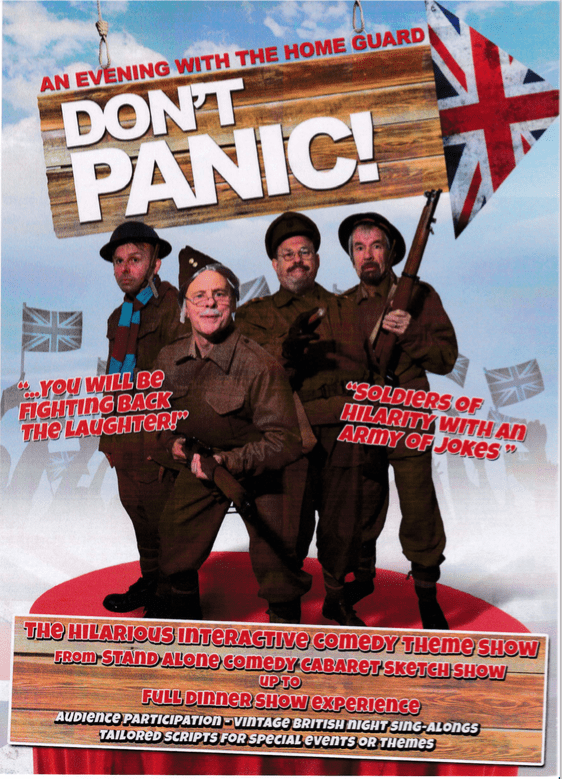 DON'T PANIC!
A Comedy,sing along, Interactive fun Packed Show for all
Dear Event Organiser,
The Don't Panic show is an ideal add on to your event. It's a fun packed variety show with Comedy, Sing along , Magic and a little bit of unique live puppetry, amounting to a fun filled show,
Based on the Successful "Dads Army" TV Series Don't Panic is written with a live audience in mind,
It is a good clean show where you can sit next to your Mother or Granny and not worry about the content and have a dam good laugh. It is slightly risqué in places but nothing over the top and written with the same empathy as the original Croft and Perry did so marvelously all those years ago. Tailor made to each venue we try and put in as many references to the locale as we can to make it relevant to the attending guests.
The Cast have between them over a 100 years experience in producing and acting in shows throughout the country at Theme Parks, Hotels and Theatres.
Have a look at the show on You Tube – https://www.youtube.com/watch?v=uKPqe7Iuh24&sns=em
The Shows
We offer three different shows to suit the different budgets.
The Show can be done in many different ways, Theatre Style to an audience, dinner style where the Guests eat in the Interval, or on an informal style, which ever way there is great interaction with the audience and fun time to be had by all. So here's what we can offer
Don't Panic as a five man show
We have four acting cast members who each do a solo spot during the performance that is all bound together around a good solid storyline.
The Show has all the Key elements, plus our fantastic keyboard /Vocalist guaranteed to get the audience singing along with some well known wartime classics.
But enough talking please have a watch of our promo video and see for yourself just how well we would fit in to your event.
The Don't Panic Show runs for approx. 1hour and 40 Minutes
The Other Options of shows are a four man the same as the full show but with backing tracks. Running Time 1 Hour 20 Minutes. Still a great show but without the live music
A Three Man Show with Backing Tracks.
Running Time 1 Hour
Again a great show but with a smaller cast and no live music.
All the above shows are all created and performed by Don't Panic Cast members and we guarantee you will not be disappointed.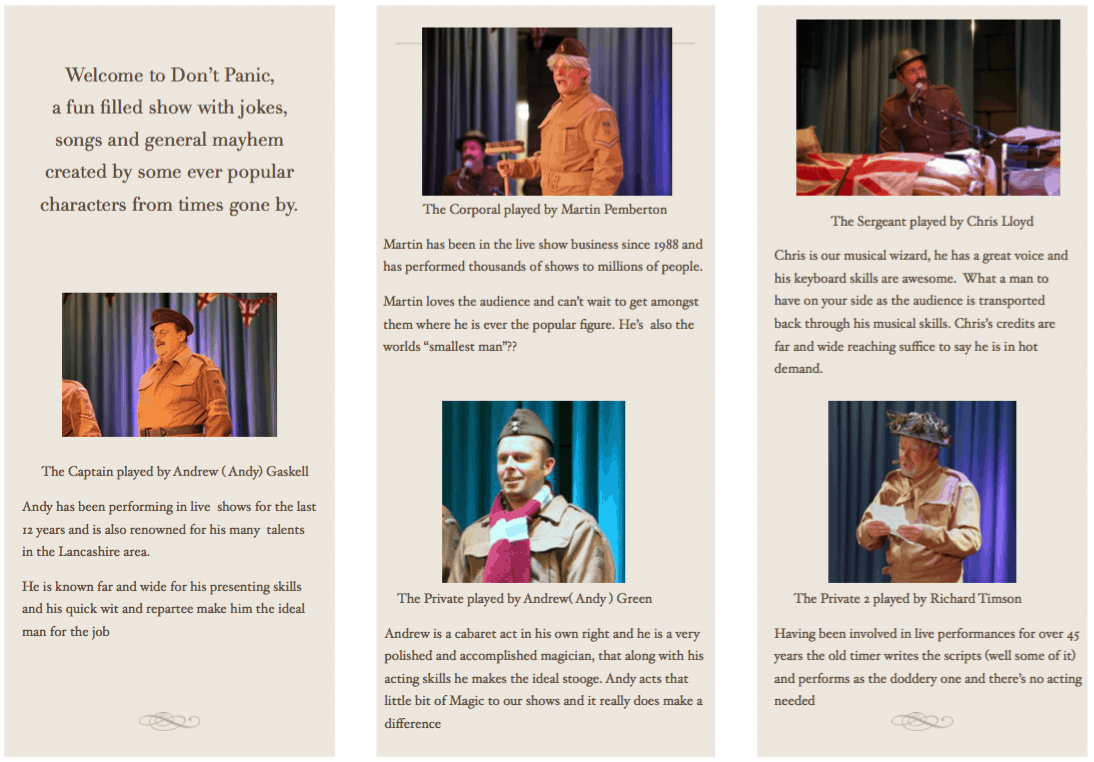 Call Now

Office 01942 205577. Mobile 07896 084136.

[contact-form-7 404 "Not Found"]