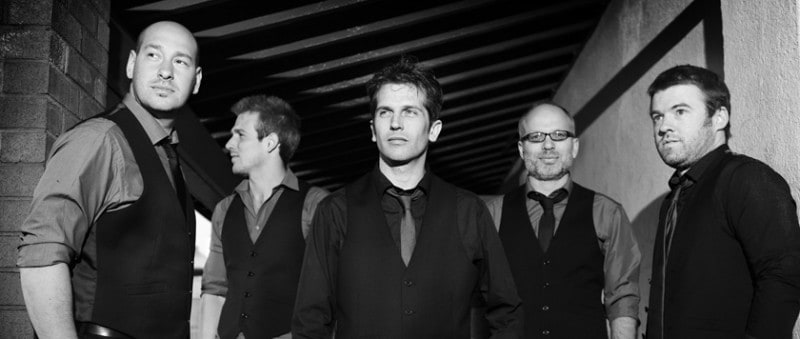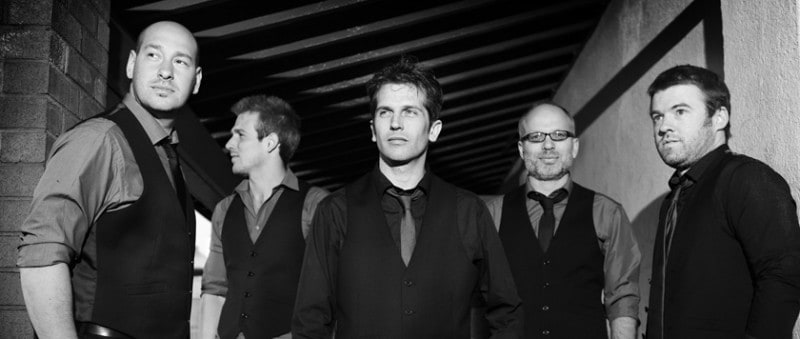 Welcome to The Deadbeats
Now in its eleventh year, "The Deadbeats" is a well-established wedding and party band that has performed over 1300 shows throughout the UK.
Highlights include appearances with favourites such as The Sugababes, The Vengaboys, Busted, Westlife, S-Club 8, Ricky Hatton, Roy "Chubby" Brown, TV star Will Mellor and the cast of "Chicago- The Musical".
Such experience and variety means that The Deadbeats can guarantee a highly professional and entertaining approach suitable for any audience and occasion.
The Band
Dave Byrne- Vocals
Dave has fronted The Deadbeats since the first gig in 2003. Prior to joining the band he wrote songs and sang for Blackpool Rock Quest Winners, Angel Hill, and performed as Michael Stipe in REM tribute band, REEM
Josh Jenkinson- Lead Guitar
Josh joined The Deadbeats in 2006 after playing for The Hooper Band. He is a Grade 8 guitarist and a direct descendent of Thor
Tom Horsfield- Rhythm Guitar & Vocals
A founding member of the band, Tom previously played guitar, bass and drums for a host of covers and originals bands including The Honeycats, Intra Venus, Kaseno and The Delmars. He also performed in REM tribute band, REEM, Jimi Hendrix tribute band, The Electric Ladyboys and Free tribute band, Freeloader. Outside The Deadbeats, Tom performs and records for singer songwriter Tali Febland
Rick Hughes- Drums
Rick joined the band in 2010, bringing with him a wealth of experience as a professional drummer. In addition to being a Grade 8 qualified drum and percussion tutor with Bolton Music Service, Rick has played throughout the world with top covers and originals bands. Career highlights include recording in Sun Studios with Elvis Presley's guitarist, Scotty Moore. This led to extensive touring work with The Muscle Shoals Band from Alabama, USA, whose own CV includes recordings with Arethra Franklyn, Wilson Picket, The Rolling Stones, Elton John and many more.
As "Ringo" in Gary Gibson's Beatles tribute band, Rick toured Brazil and Europe and performed on Chris Evans' TFI Friday. Other TV and radio work includes Channel Five's Night Fever and Radio One's Chris Moyles' Show.
Just before joining The Deadbeats, Rick played the complex drum parts of Neil Peart in his own Rush tribute band, Signals to the Hemispheres, and performed for 21 consecutive nights at The Edinburgh Fringe festival with the rock opera, Barockestra
Daniel (Shimmy) Wingate- Bass Guitar & Vocals
Another founding member of the band, Shimmy previously played bass guitar in Blackpool favourites Tax Free, Intra Venus, The Honeycats and Jimi Hendrix tribute band, The Electric Ladyboys. He also provides a wedding videography service through his Marriage in Motion business
Mike Thompson- Dep Rhythm Guitar, Lead Guitar & Vocals
On the rare occasions that one of the band has a night off, it can call on the services of its "sixth member", session musician Mike Thompson. Mike has played with the band since 2005, covering both rhythm and lead guitar aswell as backing vocal duties. He has a Higher Diploma and Degree in Guitar Performance from the Academy of Contemporary Music (ACM), Guildford, and now teaches guitar for Broughton Music Academy. The songs he wrote for originals band Sammy Beatnix are available on iTunes and Spotify
Repertoire
Party classics from 7 decades of rock and pop…
2010s
rude (Magic!)
happy (Pharrell Williams)
love runs out (One Republic)
counting stars (One Republic)
blurred lines (Robin Thicke)
get lucky (Daft Punk)
sing (Ed Sheeran)
forget you (Cee Lo Green)
moves like jagger (Maroon 5)
drive by (Train)
runaway baby (Bruno Mars)
what you know (Two Door Cinema Club)
2000s
ignition (R Kelly)
sex on fire (Kings Of Leon)
use somebody (Kings Of Leon)
mr brightside (The Killers)
somebody told me (The Killers)
all these things i've done (The Killers)
when you were young (The Killers)
hey ya (Outkast)
mardy bum (Arctic Monkeys)
lady (Modjo)
teenage dirtbag (Wheatus)
dakota (Stereophonics)
let me entertain you (Robbie Williams)
valerie (Amy Winehouse version)
she's so lovely (Scouting For Girls)
yellow (Coldplay)
don't look back into the sun (The Libertines)
dreaming of you (The Coral)
chelsea dagger (The Fratellis)
take me out (Franz Ferdinand)
last nite (The Strokes)
1990s
song 2 (Blur)
basket case (Green Day)
fresh prince of bel air (Will Smith)
jump around (House of Pain)
all the small things (Blink 182)
keep on movin (5ive)
love foolosophy (Jamiroquai)
cosmic girl (Jamiroquai)
under the bridge (Red Hot Chili Peppers)
laid (James)
sit down (James)
when you're gone (Bryan Adams and Mel C)
angels (Robbie Williams)
don't look back in anger (Oasis)
wonderwall (Oasis)
disco 2000 (Pulp)
buck rodgers (Feeder)
are you gonna go my way (Lenny Kravitz)
you do something to me (Paul Weller)
rocks (Primal Scream)
don't wanna miss a thing (Aerosmith)
place your hands (Reef)
two princes (Spin Doctors)
big me (Foo Fighters)
flowers in the window (Travis)
day we caught the train (Ocean Colour Scene)
the circle (Ocean Colour Scene)
1980s
september (Earth, Wind & Fire)
rio (Duran Duran)
run to you (Bryan Adams)
dancing on the ceiling (Lionel Ritchie)
summer of 69 (Bryan Adams)
sweet child of mine (Guns n Roses)
hungry like the wolf (Duran Duran)
call me al (Paul Simon)
this charming man (The Smiths)
pride- in the name of love (U2)
she bangs the drums (The Stone Roses)
made of stone (The Stone Roses)
waterfall (The Stone Roses)
sally cinnamon (The Stone Roses)
footloose (Kenny Loggins)
everybody needs somebody (Blues Bros version)
faith (George Michael)
i'm your man (Wham)
merry christmas everyone (Shakin Stevens)
billie jean (Michael Jackson)
another one bites the dust (Queen)
thriller (Michael Jackson)
last night a dj saved my life (Indeep)
baggy trousers (Madness)
is this love (Whitesnake)
rappers delight (Sugar Hill Gang)
celebration (Kool & The Gang)
town called malice (The Jam)
i would walk 500 miles (The Proclaimers)
the power of love (Huey Lewis and the News)
jump (Van Halen)
i think we're alone now (Tiffany)
1970s
fat bottomed girls (Queen)
sweet home alabama (Lynard Skynard)
hotel california (The Eagles)
sir duke (Stevie Wonder)
superstition (Stevie Wonder)
i wish (Stevie Wonder)
isn't she lovely (Stevie Wonder)
let's stick together (Bryan Ferry)
the boys are back in town (Thin Lizzy)
long train runnin' (The Dooble Brothers)
crazy little thing called love (Queen)
tiger feet (Mud)
my sharona (The Knack)
sultans of swing (Dire Straits)
rock & roll (Led Zeppelin)
maggie may (Rod Stewart)
merry xmas (Slade)
stuck in the middle (Steeler's Wheel)
reelin' in the years (Steely Dan)
walk this way (Aerosmith)
sweet emotion (Aerosmith)
funky music (Wyld Cherry)
stand by me (John Lennon version)
1950s and 1960s
johnny b goode (Chuck Berry)
rock around the clock (Bill Haley & His Comets)
blue suede shoes (Elvis Presley)
soul man (Sam & Dave)
it's not unusual (Tom Jones)
can't keep my eyes off you (Andy Williams)
suspicious minds (Elvis Presley)
bad moon rising (Credance Clearwater)
rescue me (Fontella Bass)
higher and higher (Jackie WIlson)
jailhouse rock (Elvis Presley)
satisfaction (Rolling Stones)
keep on running (Spencer Davis Group)
hi ho silver lining (Jeff Beck)
alright now (Free)
twist & shout (The Beatles)
all my loving (The Beatles)
can't buy me love (The Beatles)
i saw her standing there (The Beatles)
i wanna hold your hand (The Beatles)
don't let me down (The Beatles)
here comes the sun (The Beatles)
you really got me (The Kinks)
i'm a believer (The Monkees)
pretty woman (Roy Orbison)
my girl (The Temptations version)
brown sugar (The Rolling Stones)
sweet caroline (Neil Diamond)
heatwave (Martha Reeves and The Vandellas)
brown eyed girl (Van Morrison)
mustang sally (Wilson Pickett)
First Dances
amazed (Lonestar)
angels (Robbie Williams)
better together (Jack Johnson)
can't take my eyes off you (Andy Williams)
don't wanna miss a thing (Aerosmith)
fishing for a dream (Turin Breaks)
greatest day (Take That)
have i told you lately (Rod Stewart version)
heaven (Bryan Adams)
i need your love so bad (Fleetwood Mac version)
i won't give up (Jason Mraz)
many of honour (Biffy Clyro)
is this love (Whitesnake)
moondance (Van Morrison)
my girl (The Temptations version)
nobody does it better (Carly Simon)
destiny (zero 7)
rule the world (Take That)
stand by me (John Lennon version)
the look of love (Scott Walker)
the wonder of you (Elvis Presley)
when love takes over (David Guetta)
you and me (Lifehouse)
you do something to me (Paul Weller)
your song (Elton John)
Call Now

Office 01942 205577. Mobile 07896 084136.

[contact-form-7 404 "Not Found"]