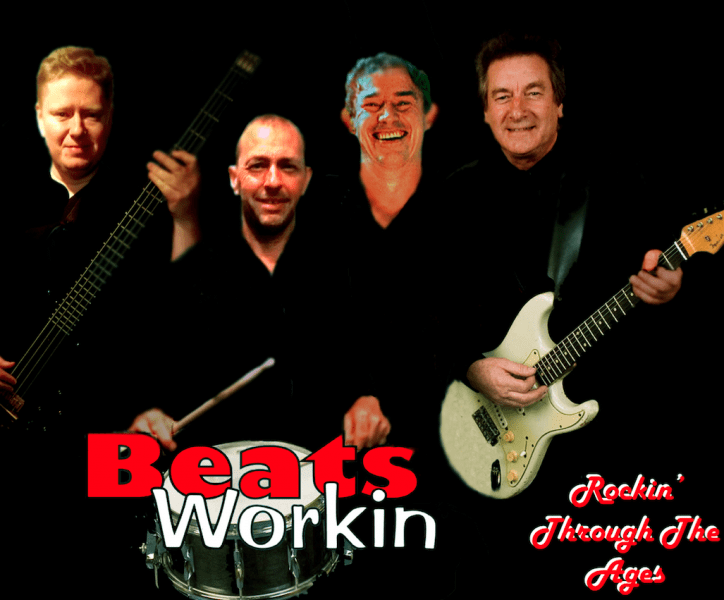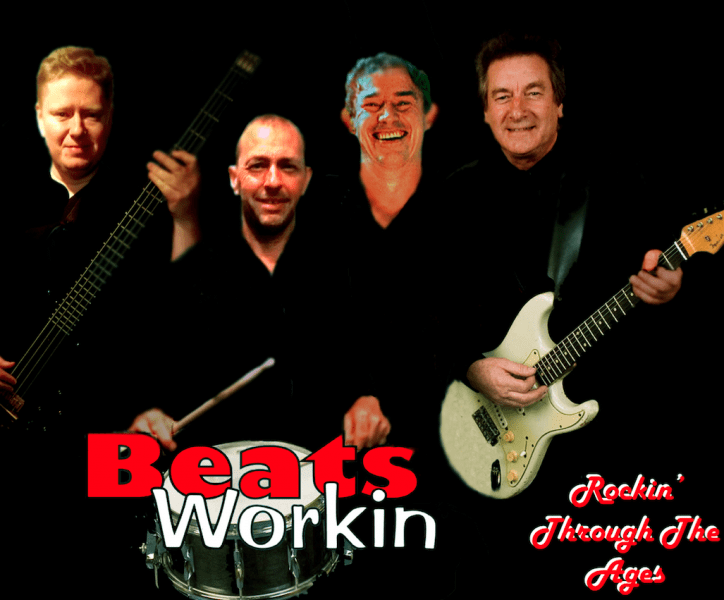 Rockin' Through The Ages
Beats Workin' are a professionally presented Rock covers band, performing memorable rock n' roll, rock, blues and soul hits from four great musical era's.
Fully self-contained featuring vocal harmonies, guitar, bass guitar drums and keyboards, Beats Workin' are a well presented band, suitable for any occasion, whether it be formal, corporate, concert, club, dance or theatre, they promise to deliver.
The Beats Workin' line up is as follows;
Keith Hubbard – Lead guitar and vocals. Keith's career began during the early 1960's and has seen him work in the West End and on tour with the original cast of the hit rock musical HAiR, he has been a member of rock band Caliban, a band who toured Europe and was one of the bands who performed for the final night at Liverpool's original Cavern Club; he then toured with hit pop band Chicory Tip (Son Of My Father), The American Drifters and 60's band Shooter, with whom he produced and directed his own touring show, The Legend Of The 60's. Keith has also appeared on TV & Radio.
Phil Roberts – Piano, keyboards & vocals – Phil, is a highly talented and schooled musician/vocalist who loves to rock.
Steve Frankland – Bass guitar and vocals. Steve has previously been a member of 60's band Shooter and joins up with Keith again in Beats Workin'.
Dean Marriott – Drums and vocals – Dean is an experienced drummer who, with Beats Working', he provides the driving rhythm's required for the bands varied repertoire.
Beats Workin's repertoire features Rock n' Roll hits of the 1950's and early 60's. The great sounds of Mersey Beat. The songs from The Swinging 60's. Rock n' Soul of The 70's and the sounds of the 1980's.
Performance times are negotiable and can be set to the bookers requirements but usually are; 2 x 45 minutes or one hour set plus encores.
Beatles – 5
Beats Workin' Playlist
50's Rock n' Roll – Rhythm & Blues
Please Don't Touch
Shakin' All Over
Need A Shot Of Rhythm & Blues
It'll Be Me
Great Balls of Fire
Summertime Blues
Three Steps To Heaven
Lucille
Blueberry Hill
Move It
Roll Over Beethoven
Johnny B Good
Someday
Do You Want To Dance
Route 66
Love Portion No. 9
Walkin' The Dog
Blue Suede Shoes
Teenager In Love
Be Bop A Lu La
Mean Woman Blues
Halfway to Paradise
Bye Bye Love
Oh Boy
That'll Be The Day
Runaway
Instrumentals 27. Classical Gas 28. Apache
29. Nutrocker 30. Wipe Out
Beatles
31. I Saw Her Standing There
32. Till There Was You
33. All My Lovin'
34. Norwegian Wood
35. Eight Days A Week
36. Can't Buy Me Love
37. Lady Madonna
38. In My Life
39. Sgt Pepper's Lonely Hearts Club Band 40. With a Little Help From My Friends 41. One After 909
42. Get Back
Mersey Beat
43. How Do You Do it
44. Bad To Me
45. Some Other Guy
46. When You Walk In The Room 47. Needles And Pins
48. Hippy Hippy Shake
The Swinging 60s
You Really Got Me
Keep On Running
Gimme Some Lovin'
Love Hurts
Oh Pretty Woman
In The Midnight Hour
Mustang Sally
Route 66
Stand By Me
Substitute
The Price of Love
The Weight
Sorrow
All Over Now
Just One Look
I'm A Believer
Born To Be Wild
Hi Ho Silver Lining
70s
Caroline
In My Chair
Rockin' All Over The World
The Letter
Delta Lady
Brown Sugar
Be My Baby
Come Up and See me
Davy's On The Road Again
Fanfare For The Common Man
Don't Bring Me Down
I Fought the Law
Love Train
Oh What A Night (Dec 63)
Stuck In The Middle With You
Let's Work Together
80s-1
83. The Power of Love 84. It's A Kind Of Magic
Call Now

Office 01942 205577. Mobile 07896 084136.

[contact-form-7 404 "Not Found"]