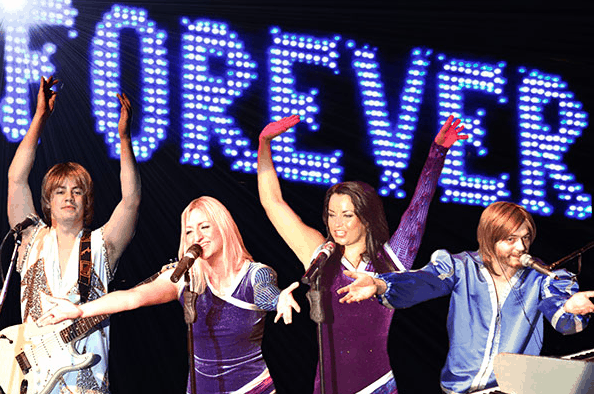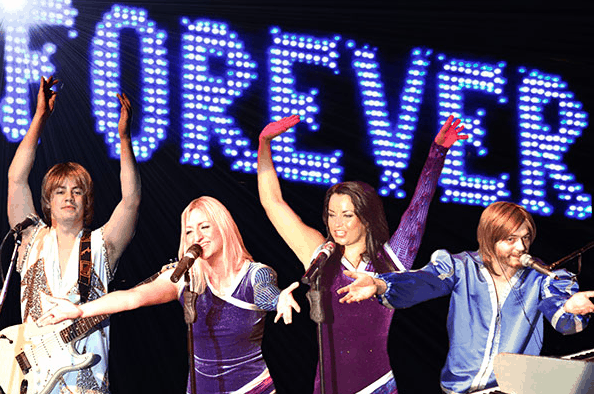 Forever… The Abba Tribute
Quoted as The Next Best to the original Abba by Scandinavias leading music television channel NRK, this show has entertained audiences all over the world, from large outdoor festivals to private birthday parties. Wherever they perform they endeavour to get the audience on their feet and capture Abba as they were in there hayday…
"Few have received the same recognition as Forever, the nation's leading live Abba tribute"
The Scotsman, Scotland on Sunday
Having performed many international & national theatre tours ,concerts & open air Festivals, they have appeared 'Live' numerous times on live television and radio broadcasts.
"Successful tribute bands have to not only the look and sound exactly right, but also recreate the atmosphere of an original concert. "It is easy to see why Abba Forever are regarded as one of the most authentic!" Gloucester Echo News
Tours of Iceland, Austria, France, Romania, Denmark, Portugal ,Cyprus, Norway and Northern and Southern Ireland have taken place, a tour in Russia included television interviews & their performance in Moscow was televised 'Live' and shown throughout the Baltic States.
A performance in Hossegor, France featured on MTV and a recent festival in South Africa had them performing in front of 55,000 people headlining with some of their biggest stars.
More recently they were flown to the exotic location of Phuket in Thailand for several performances which generated lots of media coverage.
"To say that it succeeds in its aim is an understatement". South Wales Evening Post.
A considerable landmark in their career was their sixth sell out theatre tour of Sweden, the 'home of the original super group Abba'. They enjoyed standing ovations and an abundance of positive feedback from the audiences. Countless comments were attributed to Forever stating that they are "Just like the real Abba!" Making front page of the Swedish tabloids and television interviews, not to mention being followed by a Norwegian camera crew for a top music channel documentary on 'Abba Forever', on a programme called 'The Next Best 'to the original Abba, which was shown and Broadcast in Norway, Sweden and Denmark.
There are many tributes in circulation but Forever are exceptional in comparison, with the most meticulous attention to detail, this live production aims to reproduce Abba Live in Concert focusing on the live aspect with an exceptionally talented, professional cast, the show features the very high standard of musicianship needed to recreate Abba songs, and with all performers singing & playing totally live, audiences are experiencing a true live performance.
 Packed full of excitement and vivacity, dazzling costumes and authentic lighting design, they will take you on a journey back to the 1970's. Wherever the band performs, audiences can watch and hear all of the hits including some hidden surprises for even the most ardent Abba fan.
Performing as a 4 piece to an All live 6 piece, Fully self contained and comes equipped to suit any venue with a new 10 K.W E.v P.A system and the finest Yamaha Digital desk and Crown amps that is tailored on arrival for numbers & space. Also boasting led generic lighting and the latest LED moving head intelligent light show. Also extras if permitted & space white grand piano, Pyramid stage trussing a professional Blue laser, strobe, led Blinder, & other effects such as la maitre Hazer, pyrotechnics, giant mirror ball, LED Light up Signage & Led Light up names Large Backdrop & video projection etc Health & safety plus space available & permitting.
With Varying line ups this show can be tailored to suit any event and budget comprising of a 4 piece live band made up of Piano & keys, Acoustic & Electric Guitars, Drums and Bass guitar with all musicians singing live. Fully choreographed and authentic, lavish costume changes.
Covering ABBA's classic songs.
Call Now

Office 01942 205577. Mobile 07896 084136.

[contact-form-7 404 "Not Found"]