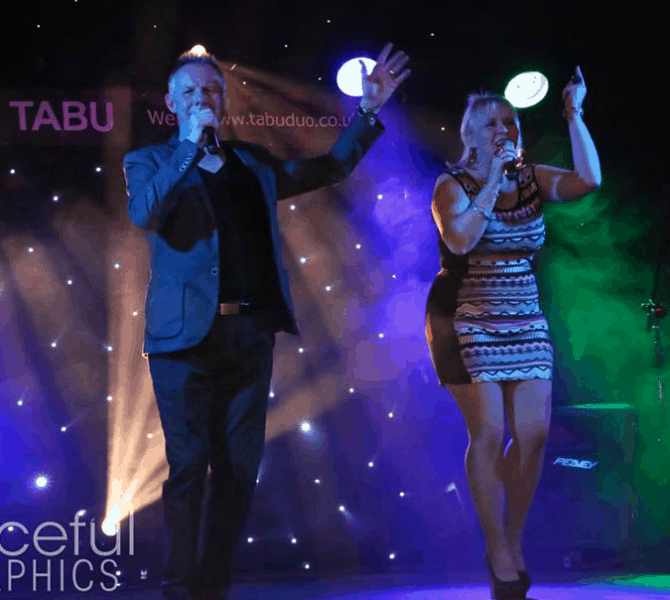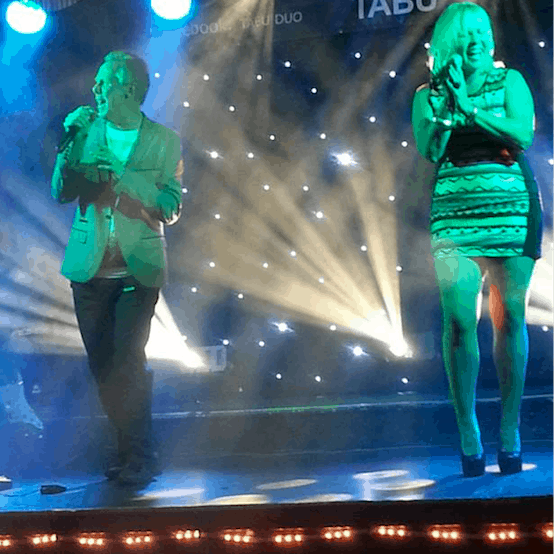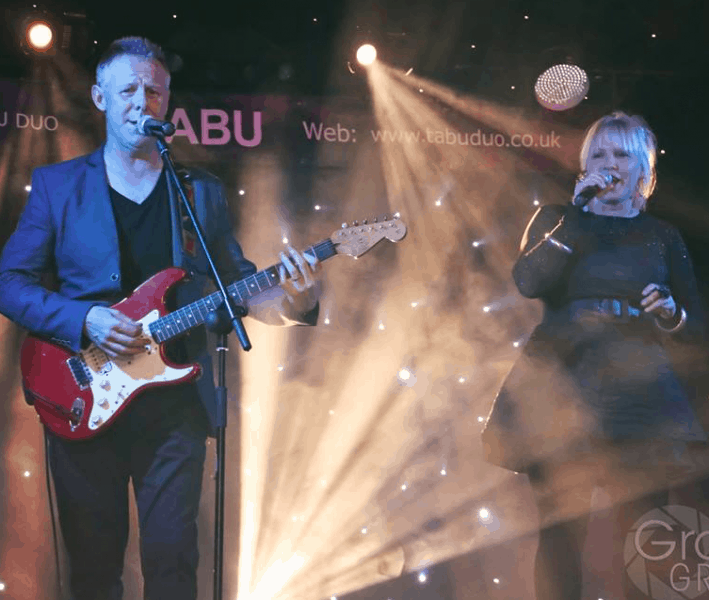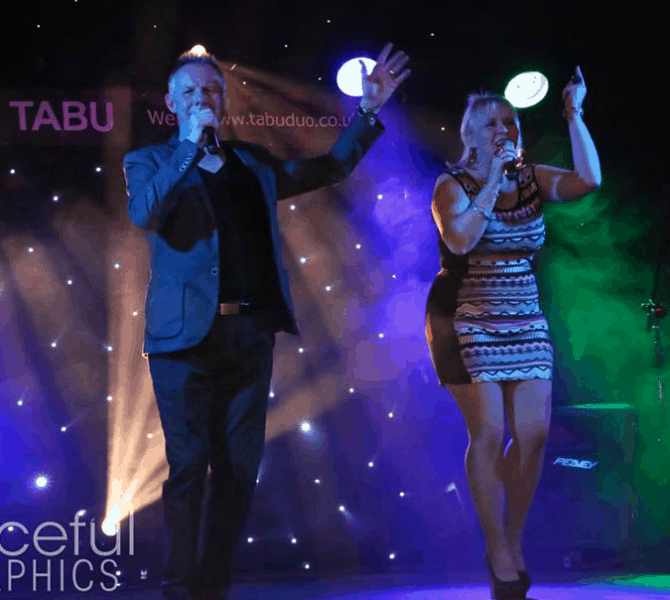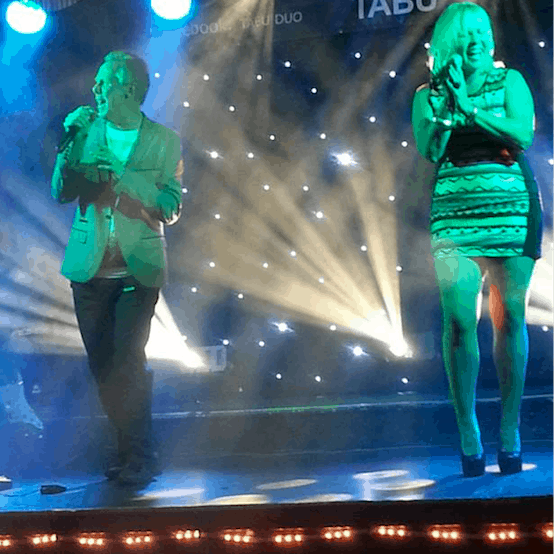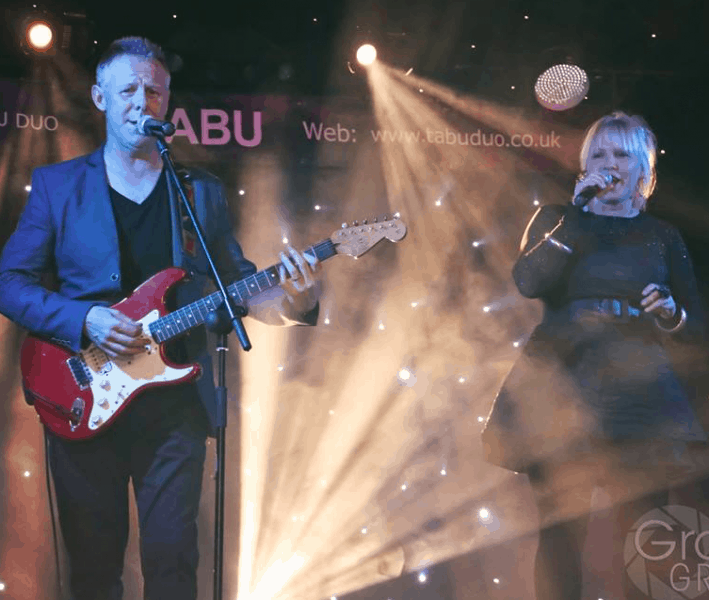 Andrea and Tony are an outstanding duo that has an established name on the duo market, having worked together for many years and were the lead vocalists and heart of the group TABU. They have worked many venues including 14 consecutive summer seasons at The Winter Gardens, Blackpool, many Warners and Haven Holiday Centres, Golf Clubs, social clubs and forces networks both in the UK and abroad. Tony is an accomplished guitarist with an excellent voice who has the ability to charm any audience. Andrea has not only the looks but also a superb voice with a dynamic personality. TABU have updated their show for 2011 which includes a fully computerised lights/sound show and new set lists. For venues looking for a professional, talented and hard working duo then TABU is highly recommended. Their show comprises of songs to please audiences of all kinds with a complete mixture of covers from the fifties to current chart material.
The Entertainer( Nottingham)…. Paul
Every year we are entertained about this time by the boy/girl duo TABU and this year was no exception and as always they put on a sparkling night of entertainment. Tony and Andrea just go from strength to strength and are just about to embark on their tenth consecutive season at Blackpool's famous Winter Gardens. You don't get a job like that for so long without having a ton of ability and this pair really have. In addition to this they are two of the nicest people in the business. Thanks again Tony and Andrea for another very special night.
The Entertainer…. Dave the Rave
This particular Sunday night I made my way over to Highfields Miners Welfare to see a duo by the name of Tabu.
If you're a regular visitor to Blackpool, the chances are you will have seen Tabu performing at The Winter Gardens. I can't remember how many years Tony and Andrea have clocked up in the Victoria Bar, but I do know they are now regarded as part of the furniture.
Getting back to Tabu's performance at Highfields, you can see that this duo have been there done it and got the T-shirt. Taking us through the 70's, 80's 90's and right up to todays chart material it's easy to see why Tabu are such big hits with Blackpool holiday makers.
Bentinck Miners Welfare Club
Then came TABU. This is another act that has not been to see us for a few years so were do I begin? The show hasbeen totally re-done with right up to date songs with a new p/a and light show. Tony and Andrea did a fantastic job with three encores, what more can you ask for. Even the younger members were asking when are they coming back.One thing I ask is keep the show fresh to all acts and take a leaf out of Tabu's book and refresh your show. Someacts are getting so predictable in what is coming next.
Billingham Cons Club
Last night I seen a brilliant duo called TABU, Andrea and Tony from Chorley have two excellent sets with great sounding tracks, add to this an excellent light show and you have an act worthy of any stage, I really do look forward to seeing them again and I would hope it is not too long before we do.
1st Set
Real Gone Kid – Deacon Blue
Everalsting Love – Love affair
Need you now – Lady Antebellum
Up – Olly Murs Demi Lovato
Thinking Out Loud – Ed Shearan
Superstition – Stevie Wonder
Bad Romance – Lady Ga Ga
Can't stop the feeling – Justin Timberlake
Happy – Pharrel Williams
Let Me go – Gary Barlow
2nd Set
Lightning – The Wanted
Don't you want me baby – Human League
Sweat (a la la la la long) – Inner circle
Oh what a night (Dec 63) –Clock
Uptown Funk – Bruno Mars
Rhythm of the night – Cascada
Moves like Jagger – Maroon 5
All about the bass – Meghan Trainor
Erasure Medley
I just cant get enough – Depeche Mode
Dakota – Stereophonics
Current Optional
Born This Way, Human, Summer Of 69, Valerie, All Time Low
Rock & Roll Medley, Tell Me Ma, Cotton Eyed Joe
PLAYLIST
Song title and decade Artiste
50's
GREAT PRETENDER – THE PLATTERS
ROCK AND ROLL MEDLEY – VARIOUS
TEENAGER IN LOVE – MARTY WILD
TRUE LOVE – BING CROSBY/GRACE KELLY
60's
BUTTERCUP – THE FOUNDATIONS
CRAZY – PATSY CLINE
DELILAH – TOM JONES
DO YOU LOVE ME – THE TREMELOES
ELEANOR/HAPPY TOGETHER –  TURTLES
RUNAROUND SUE –  DION
SHOUT – LULU
SUGAR PIE HONEY BUNCH – THE FOUR TOPS
WILL YOU STILL LOVE ME TOMORROW – SHIRELLES
70's
HANG ON IN THERE BABY – JOHNNY BRISTOL
LOVE REALLY HURTS – BILLY OCEAN
OH WHAT A NIGHT – FRANKE VALLI
80's
BEST YEARS OF OUR LIVES – MODERN ROMANCE
ERASURE MEDLEY – ERASURE
GIVE IT UP – K C AND THE SUNSHINE BAND
I'M SO EXCITED – POINTER SISTERS
I'M STILL STANDING – ELTON JOHN
OLE DEVIL CALLED LOVE – BILLIE HOLLIDAY
ON THE WINGS OF LOVE – JEFFREY OSBORNE
SUMMER OF 69 – BRYAN ADAMS
TIME OF MY LIFE – DIRTY DANCING THEME
TWO HEARTS – PHIL COLLINS
WALKING ON SUNSHINE – KATRINA AND THE WAVES
YOUNG AT HEART – BLUEBELLS
90's
ABBA/ERASURE MEDLEY – ABBA/ERASURE
ANGELS – ROBBIE WILLIAMS
BABY COME BACK – UB40
COCO JAMBO – MR PRESIDENT
COTTON EYED – JOE REDNEX
DANCE THE NIGHT AWAY – MAVERICKS
EVITA – MADONNA
I'LL TELL ME MA – VARIOUS
MAMBO NO. 5 – LOU BEGA
MAN I FEEL LIKE A WOMAN – SHANIA TWAIN
MOVIN ON UP – M PEOPLE
MUSTANG SALLY – WILSON PICKET
ONLY TAKES A MINUTE – TAKE THAT
ONLY WAY OUT – CLIFF RICHARD
RELIGHT MY FIRE – TAKE THAT
SAVE THE BEST FOR LAST – VANESSA WILLIAMS
SUNSHINE AFTER THE RAIN – BERRI
SWEAT – INNER CIRCLE
THINGS CAN ONLY GET BETTER – D REAM
TOTAL ECLIPSE OF THE HEART – KNICKI FRENCH
TUBTHUMPING – CHAMBAWAMBA
WAITING FOR YOU – RICHARD MARX
00's
GET THE PARTY STARTED – PINK
BELIEVE – CHER
CAN'T GET YOU OUT OF MY HEAD – KYLIE
DREAMS – THE CORRS
HEY BABY – D J OTZI
HILL BILLY ROCK – THE WOOLPACKERS
HUNG UP – MADONNA
REACH  – S CLUB 7
ROCK DJ – ROBBIE WILLIAMS
ROLLERCOASTER  – RONAN KEATING
SAW HIM STANDING THERE – TIFFANY
SHE'S THE ONE – ROBBIE WILLIAMS
SOMETHING STUPID – ROBBIE WILLIMAS/NICOLE KIDMAN
WHEN YOU'RE GONE – BRYAN ADAMS/MEL C
HEAVEN – DJ SAMMY
EVERYTIME WE TOUCH – CASCADA
GRACE KELLY – MIKA
SEX ON FIRE  – KINGS OF LEON
I KISSED A GIRL – KATE PERRY
HOT AND COLD – KATE PERRY
HUMAN – THE KILLERS
POKER FACE – LADY GAGA
LUCKY – JASON MARAZ WITH COLBIE CAILLAT
I JUST CANT GET ENOUGH – THE SATURDAYS
I GOT A FEELING – BLACK EYED PEAZ
FIREWORK – KATE PERRY
FORGET YOU – CE LO GREEN
ONLY GIRL IN THE WORLD – RHIANNA
THE LAZY SONG – BRUNO MARS
SOMEONE LIKE YOU – ADELE
MARRY YOU – BRUNO MARS
BORN THIS WAY – LADY GA GA
LUCKY – JASON MARAZ WITH COLBIE CAILLAT
Call Now

Office 01942 205577. Mobile 07896 084136.

[contact-form-7 404 "Not Found"]