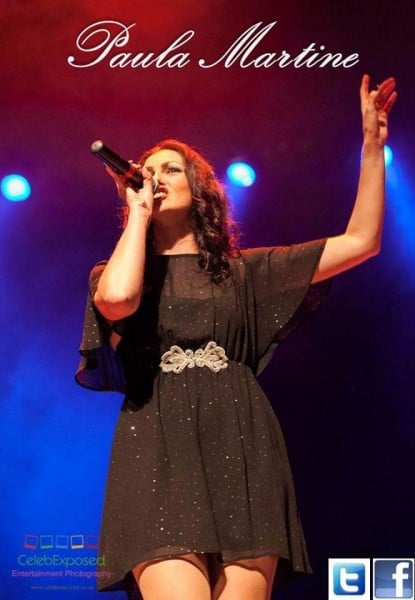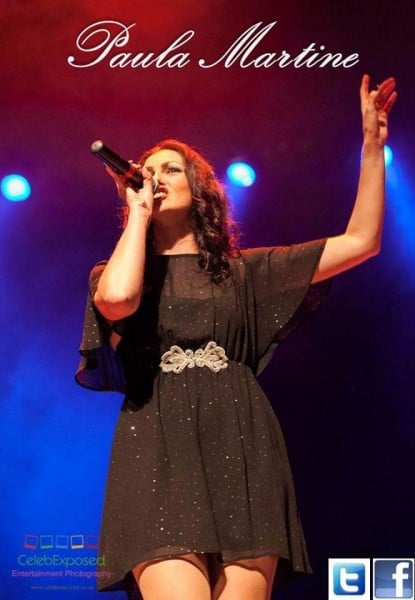 Paula Martine – Female Vocalist
Originally from Prestatyn in North Wales, since the age of three, Paula has trained to a high standard in Dance, Drama & Music, studying at The North Wales School Of Dancing & Merseyside Dance & Drama centre.
In early years, as well as the likes of Stevie Wonder, Tina Turner and Michael Jackson, Paula was influenced by her Grandfather, who would sing across the North West as Al Buddy. He encouraged her to sing and play the piano.
Paula attended two local Welsh Schools where music was highly influenced. She sang in many Eisteddfod across Wales and even had the opportunity to travel across to Norway.
As a member of The North Wales School Of Dancing, as well as Ballet, Tap and Modern Dance, Singing was also encouraged and she entered many festival Competitions with other dance schools, took part in the local pantomime "Snow White & The seven Dwarves" where she played "Grumpy" and was a part of the cast of Rhyl And District Amateur Operatic Society for "Kiss Me Kate" and "Showboat" in the early 90s.
In 1997 Paula auditioned and successfully got the job as a Bluecoat Entertainer for Pontins Wall Park in Devon, where she gained experience in compering, DJ work, kids entertaining, hosting as well as singing and dancing in the shows.
In 1999 Paula was made Head Girl at Pontins Camber Sands East Sussex where she assisted in show choreography and put together her own vocal Cabaret Spot. This was when she gained her Equity card and became Paula Martine.
From 2000-2002 Paula performed professionally across the UK and the Balearic Islands of Mallorca and Menorca in 3 vocal/dance show bands where the groups were even featured in BBC One's Passport To The Sun with Nadia Sawalha.
Paula returned from Spain late 2002 with soon to be husband Steve, then put together their own vocal boy/girl duo Azurra where they performed across the UK and also became resident duo at Pontins in Prestatyn.
As a solo Artist, Paula Martine uses her performing skills that she took from her time in Pontins and entertains the audience as well as sings for them. Her passion for Soul music is a strong factor and Paula covers songs by Tina Turner, Paloma Faith, Aretha Franklin, Stevie Wonder, Amy Winehouse to name just a few.
In September 2012, Paula participated in the Katie Piper Foundation Charity concert held at the Rhyl Pavilion Theatre and received this fantastic review….
"Paula Martine was next up on the stage, wow this woman can sing and bring the audience in to the feel of the night with a night of fun that was now moving along nicely.
My particular favorite track that she performed was the Niles Barkley track Crazy the audience seemed to be enjoying it as well as they started to clap to the beat of the song, brilliant atmosphere and start to the event to help raise money for the Katie Piper Foundation.
Paula performed extremely well and she has such a powerful voice that can really hit some amazing notes, if you do get chance to see Paula perform then check her out."
Paula now performs across the UK singing at Holiday Camps, Theatres, Weddings, Parties, Social Clubs, Hotels and Corporate Events with a fantastic reputation gained over the years.
PAULA MARTINE – SONG LIST 2014
ADELE – ROLLING IN THE DEEP ADELE – SET FIRE TO THE RAIN – MOTO BLANCO DANCE MIX ADELE – CHASING PAVEMENTS ADELE – SOMEONE LIKE YOU ADELE – RUMOUR HAS IT/SOMEONE LIKE YOU (GLEE VERSION) ADELE – MAKE YOU FEEL MY LOVE AEROSMITH – I DON'T WANNA MISS A THING AL WILSON – THE SNAKE ATOMIC KITTEN –WHOLE AGAIN ATOMIC KITTEN – THE TIDE IS HIGH ARETHA FRANKLIN – CHAIN OF FOOLS ARETHA FRANKLIN – YOU MAKE ME FEEL LIKE A NATURAL WOMAN ARETHA FRANKLIN – DO RIGHT WOMAN, DO RIGHT MAN ALANNAH MYLES – BLACK VELVET AMY WINEHOUSE – VALERIE AMY WINEHOUSE – LOVE IS A LOSING GAME ALEXANDRA BURKE – BAD BOYS ALEXANDRA BURKE – HALLELUJIA AMII STEWART – KNOCK ON WOOD ADAM LAMBERT – FEELING GOOD ABBA – MEDLEY ALESHA DIXON – THE BOY DOES NOTHING ANDY WILLIAMS – CAN'T TAKE MY EYES OFF YOU (DANCE VERSION) BING CROSBY – WHITE CHRISTMAS BING CROSBY – LET IT SNOW BRYAN ADAMS – SUMMER OF 69 BONEY M – MEGAMIX BRENDA LEE – ROCKIN' AROUND THE CHRISTMAS TREE BEATLES – I SAW HER STANDING THERE BEYONCE – XO BRUNO MARS – JUST THE WAY YOU ARE BRUNO MARS – TREASURE BRUNO MARS – GRENADE BRUNO MARS – MARRY YOU BRUNO MARS- LOCKED OUT OF HEAVEN BON JOVI – LIVING ON A PRAYER BLUES BROTHERS – GIMME SOME LOVING BETTE MIDLER – STAY WITH ME BABY CALVIN HARRIS FEAT NE-YO –LET'S GO COMMITMENTS – MEDLEY CORONA – RHYTHM OF THE NIGHT CASCADA – LAST CHRISTMAS CONNIE FRANCIS – STUPID CUPID CHRISTINA AGUILERA – CANDYMAN CEE-LO GREEN – FORGET YOU CLEAN BANDIT – RATHER BE CREEDENCE CLEARWATER REVIVAL – BAD MOON RISING DAFT PUNK FT PHARRELL WILLIAMS – GET LUCKY DEMI LOVATO – LET IT GO (FROZEN) DUSTY SPRINGFIELD – GOING BACK DUSTY SPRINGFIELD – SON OF A PREACHER MAN DUSTY SPRINGFIELD – TAKE ANOTHER LITTLE PIECE OF MY HEART D.REAM – THINGS CAN ONLY GET BETTER DRIFTERS (THE) – WHITE CHRISTMAS DRIFTERS (THE) – FOOLS FALL IN LOVE DUFFY – MERCY DAVID GUETTA – LOVE DON'T LET ME GO ETTA JAMES – AT LAST ETTA JAMES – SOMETHING'S GOT A HOLD ON ME EDDIE GRANT – ELECTRIC AVENUE EMELI SANDE – NEXT TO ME EMELI SANDE – READ ALL ABOUT IT PART III EMELI SANDE – IMAGINE ELVIS MEDLEY ELLIE GOULDING – BURN ERTHA KITT – SANTA BABY EN VOGUE – DON'T LET GO FOUR TOPS (THE) – REACH OUT (I'LL BE THERE) FOUNDATIONS (THE) – BUILD ME UP BUTTERCUP FLEETWOOD MAC – GO YOUR OWN WAY FIVE SATINS – IN THE STILL OF THE NIGHT FIVE – KEEP ON MOVIN' FLORENCE AND THE MACHINE – YOU'VE GOT THE LOVE GARETH GATES – SPIRIT IN THE SKY GNARLS BARKLEY – CRAZY GALA – FREED FROM DESIRE GUNS N ROSES – SWEET CHILD O'MINE HEART – ALONE IRENE CARA – OUT HERE ON MY OWN JESSIE J – DOMINO JESSIE J – PRICE TAG JESSIE J, CASSIDY & ROBIN THICKE – CALLING ALL HEARTS JOHN NEWMAN – LOVE ME AGAIN JOURNEY – DON'T STOP BELIEVING JOURNEY – OPEN ARMS JACKSON 5 – BLAME IT ON THE BOOGIE JENNIFER HUDSON – NIGHT OF YOUR LIFE JASON DERULO – THE OTHER SIDE JAMES BROWN – I FEEL GOOD JACKIE WILSON – YOUR LOVE KEEP LIFTING ME (HIGHER AND HIGHER) KOOL & THE GANG – LADIES NIGHT KILLERS (THE) – HUMAN KENNY LOGGINS – FOOTLOOSE KYLIE MINOGUE – ON A NIGHT LIKE THIS KATY PERRY – FIREWORK KATY PERRY – ROAR LIZA MINELLI – MAYBE THIS TIME LADY GAGA – BAD ROMANCE LADY GAGA FT BEYONCE – TELEPHONE LADY GAGA – APPLAUSE LILLY ALLEN – SOMEWHERE ONLY WE KNOW LITTLE MIX – WINGS LEONA LEWIS – RUN MAROON 5 – MOVES LIKE JAGGER MARIAH CAREY – ALL I WANT FOR CHRISTMAS MICHAEL BOLTON – LEAN ON ME MICHAEL JACKSON – THE WAY YOU MAKE ME FEEL MARVIN GAYE – AIN'T THAT PECULIAR MARVIN GAYE – I HEARD IT THROUGH THE GRAPEVINE MARVIN GAYE & TAMMI TERRELL – AIN'T NO MOUNTAIN HIGH ENOUGH MARTHA REEVES AND THE VANDELLAS – DANCING IN THE STREET MARTHA REEVES AND THE VANDELLAS – LOVE IS LIKE A (HEATWAVE) MARTHA REEVES AND THE VANDELLAS – NOWHERE TO RUN, NOWHERE TO HIDE NATALIE IMBRUGLIA – TORN NICKI MINAJ – STARSHIPS NINA SIMONE – MY BABY JUST CARES FOR ME NOISETTES (THE) – NEVER FORGET YOU O'JAYS – LOVETRAIN OLLY MURS- DANCE WITH ME TONIGHT OVERTONES – HIT THE ROAD JACK OVERTONES – DON'T WORRY BE HAPPY PALOMA FAITH – UPSIDE DOWN PALOMA FAITH – STONE COLD SOBER PALOMA FAITH – PICKING UP THE PIECES PALOMA FAITH – CAN'T RELY ON YOU PHARRELL WILLIAMS – HAPPY PHATS & SMALL – TURN AROUND PIXIE LOTT – ALL ABOUT TONIGHT PINK – RAISE YOUR GLASS POGUES – FAIRYTAIL OF NEW YORK QUEEN – SOMEBODY TO LOVE ROSE ROYCE – CARWASH RANDY CRAWFORD – YOU MIGHT NEED SOMEBODY RIHANNA – ONLY GIRL IN THE WORLD RIHANNA – WE FOUND LOVE REAL THING (THE) – YOU TO ME ARE EVERYTHING RUDIMENTAL – WAITING ALL NIGHT RONETTES (THE) – BE MY BABY RONETTES (THE) – DA DO RON RON RONETTES (THE) – WINTER WONDERLAND RONETTES (THE) – SLEIGH RIDE SAM SMITH – LA LA LA SAM SMITH – STAY WITH ME SOPHIE ELLIS BEXTER – MURDER ON THE DANCEFLOOR STEVIE WONDER – SUPERSTITION STEVIE WONDER – WHAT XMAS MEANS TO ME SHAKIN' STEVENS – MERRY CHRISTMAS EVERYONE SHAFT – MUCHO MAMBO SWAY STATUS QUO – ANNIVERSARY WALTZ STATUS QUO – ROCKIN' ALL OVER HE WORLD STEELERS WHEEL – STUCK IN THE MIDDLE WITH YOU SLADE – MERRY CHRISTMAS EVERYBODY SNAP – RHYTHM IS A DANCER SUPREMES (THE) – YOU CAN'T HURRY LOVE SUPREMES (THE) – THE HAPPENING STRIKE – U SURE DO SHOWADDYWADDY – MEDLEY SHIRELLES (THE) – WILL YOU STILL LOVE ME TOMORROW SNOW PATROL – CHASING CARS SHAFT – MUCHO MAMBO SWAY SHANIA TWAIN – YOU'RE STILL THE ONE TAKE THAT – GREATEST DAY TAKE THAT – RULE THE WORLD TAKE THAT – RELIGHT MY FIRE TINA TURNER – A FOOL IN LOVE TINA TURNER – RIVER DEEP MOUNTAIN HIGH TINA TURNER – DISCO INFERNO TINA TURNER – PROUD MARY TAYLOR DANE – TELL IT TO MY HEART TIFFANY – I THINK WE'RE ALONE NOW TRADITIONAL – AULD LANG SYNE TRADITIONAL – SANTA CLAUS IS COMING TO TOWN ULTRA NATE – FREE VELVELETTES (THE) – NEEDLE IN A HAYSTACK WIZZARD – I WISH IT COULD BE CHRISTMAS EVERYDAY WHAM – LAST CHRISTMAS WHITNEY HOUSTON – I WANNA DANCE WITH SOMEBODY (GLEE VERSION) WOMACK & WOMACK – TEARDROPS WHITESNAKE – HERE I GO AGAIN WILSON PICKETT – LAND OF 1000 DANCES YVONNE ELLIMAN – IF I CAN'T HAVE YOU YOLANDA ADAMS – HAVE YOURSELF A MERRY LITTLE XMAS
Call Now
Office 01942 323636. Julie 07896 084136. Roger 07707 899322