Maxin Molin Rose – Harpist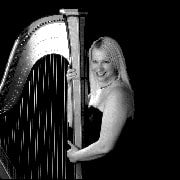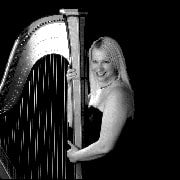 Maxine was born in Manchester and raised in Glossop. She went to her first concert at the age of 3 and decided there and then that she wanted to play the harp. She also started to play the piano at the age of 4 and was given great encouragement by her parents who were both in the Hallé Orchestra.
Maxine went on to study at Chethams School of Music where she studied under the renowned harpist Elinor Bennett. At just 10 years old she won her 1st music festival and at the age of 15 performed her 1st concerto (Mozart Flute and Harp). At 16 she debuted in a concert at the former Freetrade Hall in Manchester.
From 1989 Maxine has pursued a busy free-lance career as a harpist with some of the UK's leading Symphony and Ballet Orchestras including the Hallé, National Symphony Orchestra, English National Ballet, City Ballet of London and Moscow City Ballet. She has also pursued a solo career performing Concertos and Recitals.
Maxine has entertained Royalty and worked with a range of celebrities as diverse as Tenor Russell Watson and rap star Kanye West. She has also played aboard cruise ships, at major sports events and for product launches and television.
She appears regularly in leading hotels and wedding venues around the UK as well as playing for other special occasions and corporate events.
In addition to playing solo, Maxine can combine the beauty of the harp with the flute as part of her Melandra duo.
Call Now
Office 01942 323636. Julie 07896 084136. Roger 07707 899322