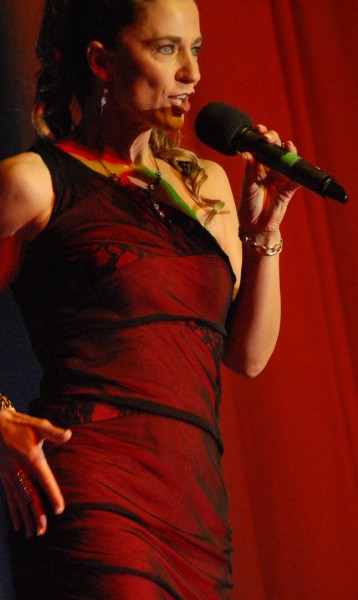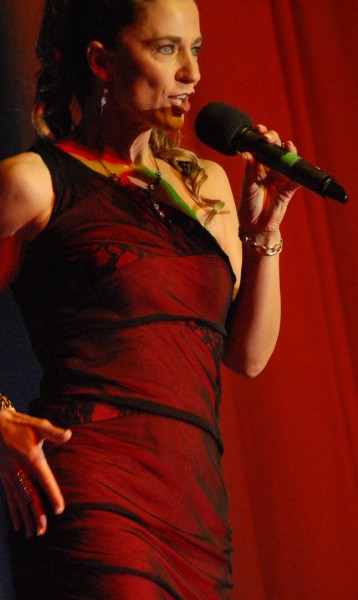 Inspired by music from her early years, Fiona hit the Clubland scene at the age of 15 working with live backing musicians. Also having worked as a studio engineer through to pub licensed trade management – she has a wealth of experience on both sides of the business. The venues she has performed in range from: cocktail lounges and hotels with her live duos, trios and bands who performed an eclectic mix of material from self written pieces to popular covers from way back to the latest releases. She is happy entertaining in small intimate restaurants right through to large venues where her boundless energy and larger than life performance can be appreciated.
With a passion for many genres of music, she can cover classic 50/60's tracks (which pleases a more mature clientele) right through to the latest hits to keep the younger ones happy. Covering mainly Pop, but also a little Light Country plus Commercial Rock, Latin, Dance, Soul n Motown, R&B – she takes the crowd through to the most current chart hits should they so wish. All styles are catered for and audiences warm to her whether they are dining to her 'Sounds of Karen Carpenter Show' or ready to party, party, party with a selection of tailor-made sets that can be pre-requested or selected by herself based on the crowd on the night – these include Fi's Flashback to The 80s Night & The Mega Motown Night.
Using quality sound, lighting and special effects, she creates an appropriate ambience for dancers and viewers alike and complimentary music is played in between sets to keep the atmosphere going. There can also be an optional disco taken into the early hours subject to a relatively minor surcharge.
ABBA Mamma Mia
ABBA Dancing Queen
ABBA Does Your Mother Know?
Agnes Release Alexandra Burke
Broken Heels Alexandra Burke
Bad Boys Alexandra Stan
Mr Saxo Beat
Amii Stewart Knock On Wood
Amy Winehouse Valerie
Anita Ward Ring My Bell
Aretha Franklyn Think
Average White Band Let's Go Round Again
Banarama Venus
Beatles Ob-La-Di Ob-La-Da
Billy Ocean When The Going Gets Tough
Billy Ray Cyrus Acky Breaky Heart
Black Lace Agadoo
Black Lace I Am The Music Man
Blondie Sunday Girl
Blondie Maria
Blondie Call Me
Bon Jovi Livin' On A Prayer
Bonnie Tyler Holding Out For A Hero
Bryan Adams and Mel C Baby When You're Gone
Bucks Fizz Making Your Mind
Up Buggies Video Killed The Radio Star
Candi Staton Young Hearts Run Free
Carly Rae Jepsen Call Me Maybe
Carpenters Please Mr Postman
Cee-Lo Green Forget You
Celine Dion I Drove All Night
Cheryl Cole Promise  This
Cindy Lauper Girls Just Wanna Have Fun
Communards Don't Leave Me This Way
Dawn Knock Three Times
Denise Williams Let's Hear It For The Boy
Diana Ross Why Do Fools Fall In Love
Diana Ross Stop In The Name Of Love
Dion and The Belmonts Run Around Sue
DJOtzi Hey Baby
Dolly Parton 9 to 5
Donna Summer Hot Stuff
Dr and The Medics Spirit In The Sky
Drifters More Than A Number In My Little Red Book
Edwin Star H.AP.P.Y. Radio
Elton John Crocodile Rock
Elvis Costello Oliver's Army
Equals Baby Come Back
Europe Final Count Down
Foundations Build Me Up Buttercup
Frank Sinatra New York, New York
Freda Payne Band Of Gold
Free All Right Now
GinaG Ooh Aah Just A Little Bit
Gloria Gaynor Never Can Say Goodbye
Hermes House Band Country Roads Dance Mix
Holly Valance Kiss Kiss
Human League Together In Electric Dreams
Irene Cara Fame
Isley Bros/Rod Stewart This Old Heart Of Mine
Jackie Wilson Higher and Higher
Jackie Wilson Reet Petite
Jennifer Lopez On The Floor
Jennifer Lopez Let's Get Loud
Jessie J Price Tag
Jessie J Domino
Jimmy James/Tina Charles I'll Go Where The Music Takes Me
Joni Mitchell Big Yellow Taxi
Jose Feliciano La Bamba
Journey Don't Stop Believing
Karmin Broken-Hearted
Katrina and The Waves Walking On Sunshine
Katy Perry Firework
Katy Perry California Gurls
Katy Perry Hot and Cold
Katy Perry Last Friday Night (T.G.I.F)
Kelly Clarkson My Life Would Suck Without You
Killers Human
Kim Wilde Kids In America
Kings Of Leon Sex On Fire
Kool and The Gang Celebration
Kylie Minogue Give Me Just a Little More Time
Kylie Minogue Spinning Around
Kylie Minogue Can't Get You Outta My Head
Labelle Lady Marmalade
Lady Gaga Just Dance
Lady Gaga Born This Way
Lady Gaga Edge Of Glory
Laura Branigan Gloria
Leo Sayer Thunder In My Heart
Lionel Richie All Night Long
Lionel Richie Dancing On The Ceiling
Little Eva Locomotion
Los Bravos Black Is Black
Madonna Material Girl
Madonna True Blue
Maroon 5 Moves Like Jagger
Miami Sound Machine Get On Your Feet
Michael Buble Hollywood
Michael Jackson Blame It On The Boogie
Michael Jackson Rockin' Robin
Michael Jackson ABC
Millie My Boy Lollipop
Mud Tiger Feet
Nicki French Total Eclipse Of The Heart
Noisettes Never Forget You
Nolans I'm In The Mood For Dancing
Ottawan D I S C O .
Ottawan Hands Up
Pink Raise Your Glass
Paloma Faith Upside Down
Pixie Lott All About Tonight
Pointer Sister I'm So Excited
Pointer Sisters Jump (For My Love)
Pulp Disco 2 Pussy Cat Dolls and AR.Rahman Jai Ho!
Queen Crazy Little Thing Called Love
Queen Don't Stop Me Now
Rainbow Since You Been Gone
Ricki Martin Livin' La Vida Loca
Rihanna SandM
Rihanna Please Don't Stop The Music
Rihanna Only Girl (In The World)
Rihanna featuring Calvin Harris We Found Love
Robbie Williams Rock DJ
Robbie Williams Let Me Entertain You
Roy Orbison Penny Arcade
Russ Abbott Atmosphere
S Club 7 Reach
Sam Cooke Twisting The Night Away
Saturdays Just Can't Get Enough
Scissor Sisters I Don't feel Like Dancing
Shakin' Stevens This Old House
Shalamar I Can make You Feel Good
Sham Rocks Tell Me Mah
Shania Twain That Don't Impress Me Much
Shania Twain Man! 1 Feel like A Woman
Sheena Easton Morning Train
Sheryl Crow All a Do
Showaddywaddy You Got What It Takes
Showaddywaddy Under The Moon Of Love
Sinita So Macho
Soft Cell Tainted Love
Spencer Davis Group Keep On Running
Starship We Built This City
Sugababes About Ya Now
Supremes Where Did Our Love Go
Supremes Baby Love
Sweet Wig Warn Bam
Sylvia Y Viva Espania
Take That Relight My Fire
Take That Everything Changes But You
Take That Could It Be magic
Tavares Heaven Must Be Missin' An Angel
Temptations Get Ready
The Wanted Lightening
Tom Jones It's Not Unusual
Toni Basil Hey Mickey
Tony Christie Is The The Way To Amarillo
Trammps and O'Jays Hold back The Night and Love Train Medley
Van Morrison Brown Eyed Girl
U Varied Artists Motown Medley Velvelettes Needle In A Haystack
Venga Boys We're Going To Ibiza
Venga Boys Sha La La La La
Village People Y.M.C.A.
Weather Girls It's Raining Men
Westlife Uptown Girl
Call Now
Office 01942 323636. Julie 07896 084136. Roger 07707 899322