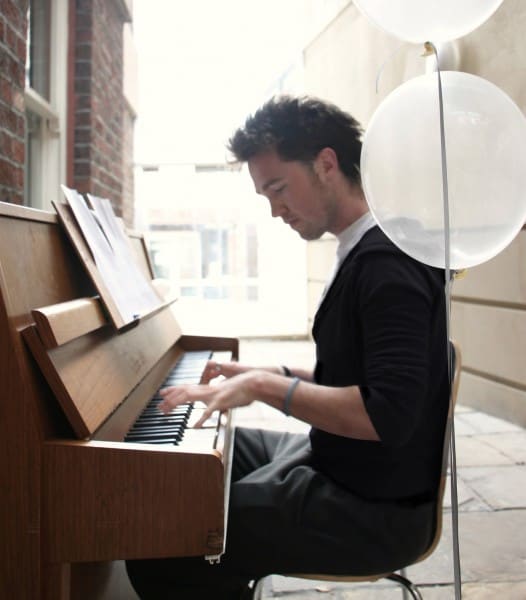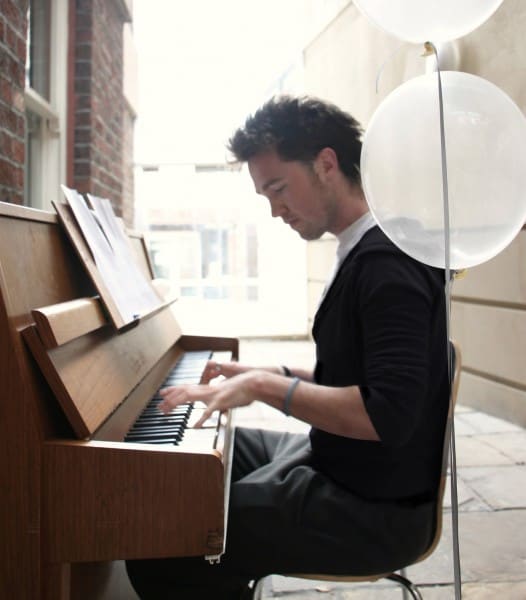 Biography Ben Brown is a multi award winning singer songwriter and piano vocalist from the North West of England and recently graduated with a First Class Honours degree in Music (Performing Arts) from The Liverpool Institute of Performing Arts (LIPA). Over the years Ben has received many accolades for his work in music. In 2012 he received The Beatles Story award and Human Spirit prize from Sir Paul McCartney, who also recently showcased Ben's outreach music venture, The Balloons Project, on his website and saying that it is "fresh, innovative and exciting." In September 2012 Ben was commissioned to write a song for the finale of the London 2012 Cultural Olympiad celebrations in the North West. Subsequently the piece called 'Indelible Fire,' was chosen by the Northwest 2012 steering group to accompany pictures and images to tell the region's story of the events leading up to and during the London 2012 Olympic and Paralympic Games. Ben began performing and song writing at the age of 8 and is now continuing to perform in the North West whilst developing his various projects. Ben's unique tone, excellent musicianship and mellow piano vocals make him the perfect choice for weddings, piano bars, hotels and more laid back events and venues. Ben's repertoire includes over 70 covers from artists such as Don Mclean, The Beatles, Cold Play, Bob Dylan, and many more.
1 Aerosmith I don't want to miss a thing
2 Air Supply All out of love
3 Al Green Ain't no Sunshine
4 Alex Lloyd Amazing
5 Amy Winehouse Rehab
6 Anastasia I belong to you (Partial)
7 Angel Shaggy
8 Annie Lennox A whiter shade of pale
9 Aretha Franklin Say a little Prayer
10 Beatles, The Hey Jude
11 Beatles, The Eleanor Rigby
12 Beatles, The Maxwell's silver hammer
13 Beatles, The Let It Be
14 Ben E King Stand By Me
15 Berlin Take My Breath Away
16 Bette Midler Wind beneath my wings
17 Bill Nighy Mad World
18 Bill Withers Lean on Me
19 Black eyed peas Where is the love (Piano)
20 Bob Dylan Blowin' in the wind
21 Bon Jovi Always
22 Burt Bacharach Raindrops keep falling on my head
23 Careless Whisper George Michael
24 Cascada Every Time We Touch (Piano)
25 Cat Stevens First cut is the deepest
26 Celine Dion My heart Will Go On (Instrumental)
27 Chris De Burgh Lady in Red
28 Cold Play Clocks
29 Cold Play Yellow
30 Cold Play The Scientist
31 Coolio C U when U get there (Piano)
32 Damien Rice Cannon Ball
33 Damien Rice Blowers Daughter
34 Daniel Beddingfield I can't read you
35 Daniel Beddingfield If your not the one
36 David Cassidy Could it be forever
37 David Grey Superman
38 Dianna Ross Touch me in the morning
39 Don MacLean Vincent
40 Don MacLean American Pie
41 Dr Hook Silvias Mother
42 Dr Hook Only Sixteen
43 Elton John Sorry
44 Elton John I guess that why they call it the blues
45 Embrace Gravity
46 Enrique Anglasias Hero
47 Eric Clapton Wonderful Tonight
48 Eric Clapton Tears in Heaven
49 Eva Cassidy Somewhere over the rainbow
50 Fat Boy Slim Praise You
51 Foreigner I want to know what love is
52 Foundations, The Build me up buttercup
53 Frank Sinatra Fly Me to the Moon
54 Fray, The How to save a life
55 Fred Hammond I wanna know your ways
56 From 'A New world' I'd give it all for you.
57 From 'Blood Brothers' I'm Not Saying a word
58 From 'The Nut Cracker' Nut Rocker
59 Gnarls Barkley Crazy
60 Gospel Beautiful Life (You took me)
61 James Blunt You're Beautiful
62 James Blunt Goodbye My lover
63 James Morison You give me something
64 James Morison Wonderful World
65 Jerry Lee Lewis Great Balls of Fire
66 John Lennon Imagine
67 John Newton Amazing Grace
68 Josh Groban You Raise me up
69 Katrina and the Waves Love Shine a Light
70 Keane Somewhere only we know
71 Kelis Little Star
72 Kelly Osborne One word (Slow Version)
73 Killers, The Somebody Told Me
74 Lighthouse Family, The Free
75 Lighthouse Family, The High
76 Lionel Ritchie Easy Like Sunday Morning
77 Lonestar Amazed 78 Lou Read Perfect Day
79 Louis Armstrong What a wonderful world
80 Lynyard Skynard Sweet Home Alabama
81 Madonna Hung Up 82 Madonna Like a prayer
83 Mama's and the Papas California Dreaming
84 Maria Carey Without you
85 Mark Ronson Stop Me
86 Maroon 5 She will be loved
87 Mika Happy Ending
88 Mika Grace kelly
89 Monkey's The Day Dream Believer
90 Mungo Jerry In the Summertime
91 Neil Diamond Sweey Caroline
92 Oasis Wonderwall
93 One Republic Apologize
94 Otis Reading Dock Of The Bay
95 Paolo Nutini Last request
96 Patsy Cline Crazy
97 Phil Collins In the air tonight
98 Phil Collins Against all odds
99 Pink Just Like a Pill
100 Pink Who Knew
101 Police, The Every Breath you take
102 R Kelly I believe I can fly
103 R Kelly If I could turn back the hands of time
104 Radiohead Karma Police
105 Ray Charles Hit the road Jack
106 Ray Charles Sir Duke
107 Rembrandts, The I'll be there for you
108 Rihanna Umbrella
109 Robbie Williams She's the One
110 Robbie Williams Angels
111 Robbie Williams Something Stupid
112 Robert Miles Children
113 Rod Stewart I don't wanna talk about it
114 Ronan Keating When you say nothing at all
115 Roy Orbison Pretty woman
116 Shirelles, The Will you Still love me tomorrow
117 Simon and Garfunkel Bridge over troubled water
118 Snow Patrol Chasing Cars
119 Steelers Wheel Stuck in the Middle with you
120 Stevie Wonder Sir Duke
121 Stevie Wonder Isn't she lovely
122 Toploader Dancing in the Moonlight
123 Train Drops of Jupiter
124 Van Morrison Brown Eyed Girl
125 Verve, The The Drugs Don't Work
126 Whitney Houston My love is your Love
127 Will Young Evergreen
128 Will Young Leave right now
129 Wilson Pickett Mustang Sally
130 Yaz Only you.
Call Now
Office 01942 323636. Julie 07896 084136. Roger 07707 899322