A&B Wedding Disco Packages
A standard wedding DJ package would include all lighting, a full PA system and contact with you prior to the day to discuss all of your requirements right down to the last detail to ensure a memorable and fantastic evening for your special night.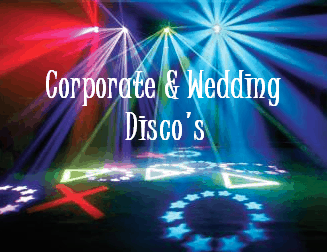 We are proud to say that the most popular disco package we offer is the original VIDEO DJ. This package includes a full light show and large projector screen for music videos and any pictures of you and your partner etc. on the screen early evening as a slide show. This adds a real personal touch as all guests can enjoy watching while early evening drinks are served. The DJ will then roam your event taking pictures and present them as a constantly updated slideshow on our 8ft/6ft/4ft screen, the perfect backdrop to your mobile disco or special event! Images will be burnt to a CD demo disc for you to keep and family members can also obtain copies if required as a great memento of the day.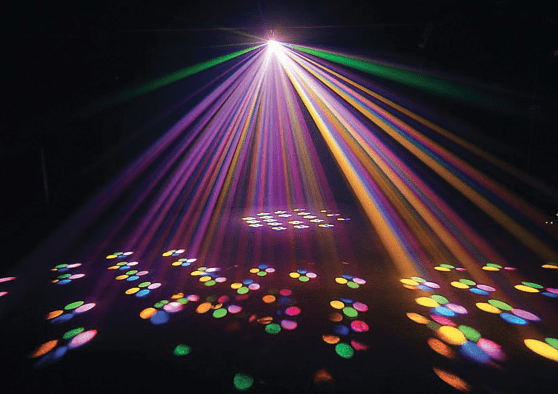 The Best 70's Disco in Town
Why not theme your Disco, 60's,70's, 80's and 90's.
Karaoke & DJ
Whatever the occasion, this is always a great way to have fun. Karaoke is a great way to entertain your guests from kids to grandparents and create a great atmosphere. This includes a presenter DJ with of course an excellent personality, TV monitor, listing of tracks, microphones and all other equipment required to ensure a fantastic night of entertainment.
LED Dance Floors
The New Love Letters
The Love Letters add that touch of class to you're wedding.
Venue Up-lighting
We can supply up-lighting to change the colour scheme for your special day. Below are a few pictures just to show you the effect that the up-lighting can create to any Wedding venue.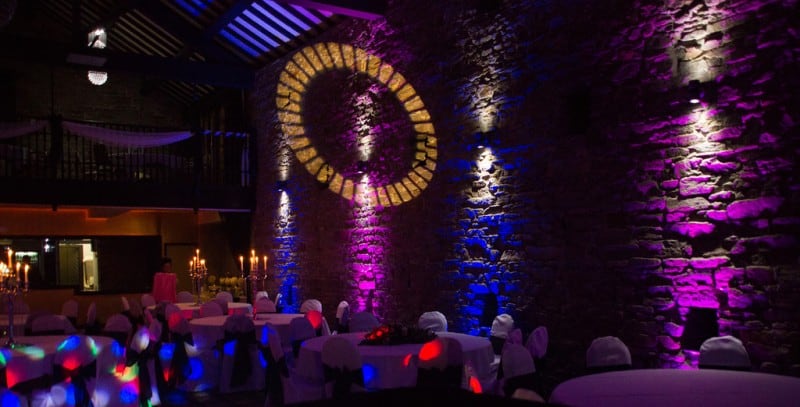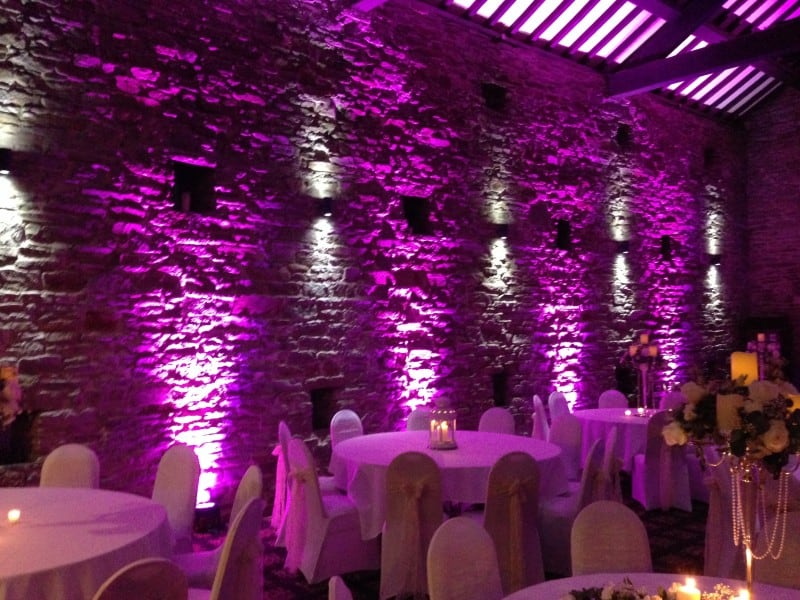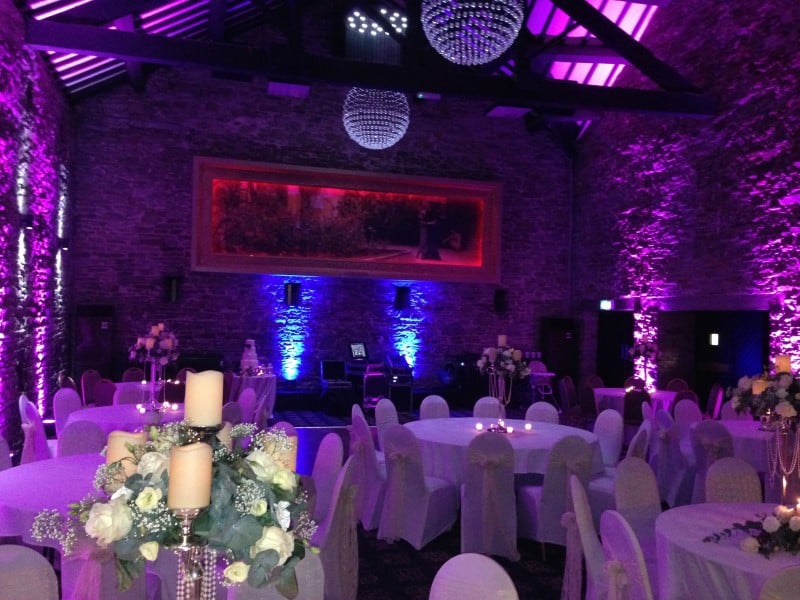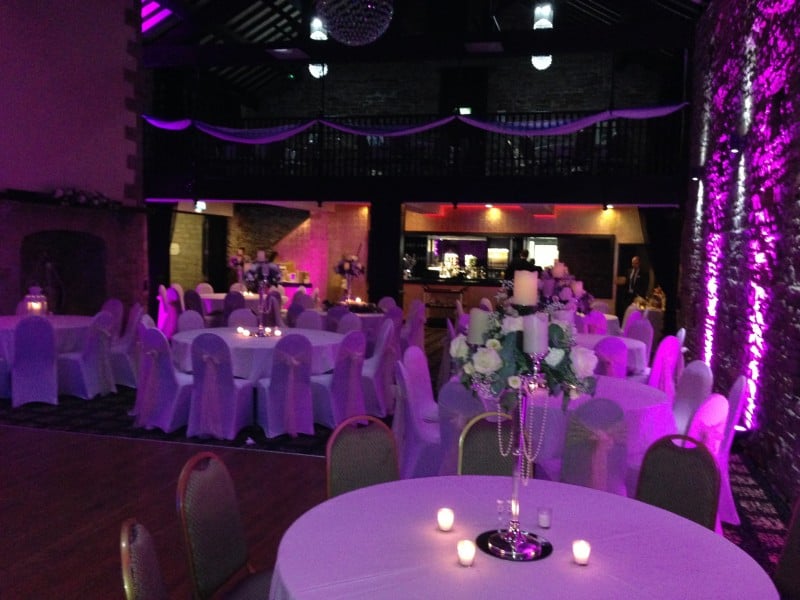 All of our DJs are fully PAT tested and carry full liability insurance for extra peace of mind. Any DJ we present will be able to contact you direct and make sure you are getting exactly what you want from your evening and can also advise you with great ideas coming from years of experience in the business. We also have many children's discos who can provide games etc and entertain the children throughout. Booking you're your Disco through A+B Entertainments will give you peace of mind that you have booked a high quality service.
We pride ourselves on the personal service we offer and the standard of all our entertainment requirements we have to offer. We take the time to understand and listen to our clients in order to give them exactly what they are looking for to make your evening the best ever and definitely one to remember. We have a wedding team who deal completely with weddings/private functions who are more than happy to offer professional advise and talk through ideas with you. Through many years of experience our team know what works and can make recommendations for your wedding disco based on your chosen venue.
We have invested a lot of time and effort in selecting our professional DJs who all use top quality sound systems and lighting. Any extras from smoke machines and special extra lighting to lighted dance floors etc. can be discussed with us or your DJ. We endeavor to provide reassurance, reliability and professionalism; we also have an emergency service on call every day till 9.00pm as back up service for a complete peace of mind where you can always contact us
DJ Testimonial
MICHELLE BROWN & MIKE WOOLLEY 21/08/15 Lancashire manor
I just wanted to send you a quick email thanking Tony for what he did on our wedding night, on behalf of Michelle and I. He played all the right music and everyone had a fantastic time. If you could please forward this onto him, it would very much be appreciated.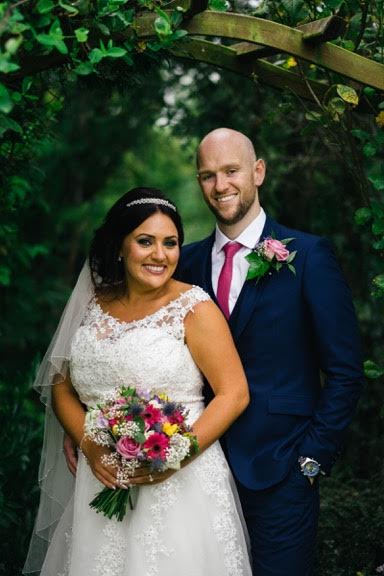 We booked our wedding Dj from A&B Entertainment, and we just wanted to say thank you so much for a fabulous evening, the
music, screen and photos were amazing, you have given us some lovely memories
we'll treasure forever.
Thanks again, regards, Victoria & Simon x 
Testimonial
Hi Julie,
Just wanted to thank you and the DJ for helping our prom be a fantastic night.
The DJ was excellent, and knew all the right songs to play for the students. The students had a great time, they literally danced all night and the DJ really was good.
Thank you again.
Tracy
Tracy Lawson
Year 11 Co-ordinator
Cowley International College
Testimonial
We booked Tony from A&B Entertainment as the evening DJ for our wedding and we couldn't have made a better choice. One of things we liked about Tony is that he was very direct and hassle free. We gave him a list of 10-15 songs we wanted and they were all played at the perfect time. We told him what time we wanted first dance and then had to change at the last minute, which was all done with a smile on his face. When faced with a wedding you often have to stress about a million things and it's nice when the DJ takes a lot of those stresses away. Everyone at the wedding commented on how they had a great night and Tony was an integral part of that. I explicitly remember at one point my best man saying to me that he wanted to sit down for a rest but can't because the DJ keeps playing great songs. Tony perfected the theme we wanted as well as the timing, thank you Tony for an amazing night.